Boeing raises 2014 profit forecast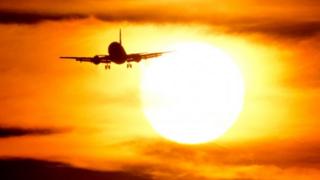 Boeing has raised its profit forecast for 2014 while announcing a "strong" first quarter.
The forecast for 2014 core earnings was raised to between $7.15 and $7.35 a share from between $7.00 and $7.20 per share.
Boeing's revenues rose 8% to $20.5bn (£12.2bn) in the first quarter, driven by an increase in commercial aircraft deliveries.
However, the firm's net earnings fell by 13% to $965m.
The earnings figure was hit by a $334m charge due to retirement plan changes in the quarter for moving non-union employees to a defined contribution pension plan.
Deliveries up
The aerospace firm expects more profit in 2014 due to a tax settlement that will take effect in the second quarter.
Boeing left 2014 forecasts for revenue operating cash flow and deliveries unchanged.
"Disciplined execution across our production and development programmes produced strong first quarter results," Boeing chief executive Jim McNerney said.
The company delivered 161 commercial aeroplanes in the three months to 31 March, a rise of 18% compared with the first quarter last year.
However, the increase was flattered by the fact that Boeing delivered just one 787 Dreamliner in the first three months of last year.
Deliveries were halted after two incidents in which batteries on the planes burned, prompting regulators to ground the global Dreamliner fleet.
While deliveries of commercial planes increased in the first quarter of this year, Boeing's revenues from military aircraft and space systems fell 6% to $7.3bn.