Patisserie Valerie firm plans share flotation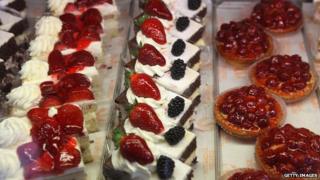 The company behind the Patisserie Valerie cafe chain has said it plans to raise £33m through selling shares on the London stock market.
The Patisserie Valerie chain has grown rapidly in recent years, expanding from eight shops in 2006 to 89 now.
In addition to the Patisserie Valerie chain, the firm also owns four other brands - Druckers, Philpotts, Baker & Spice and the Flour Power City Bakery.
The business is majority owned by entrepreneur Luke Johnson.
The first Patisserie Valerie store was opened in London's Soho in 1926 by a Belgian woman, Madame Valerie. The current management team bought a majority stake in the company in 2006.
The firm says that new stores are usually profitable from the first month and have average weekly sales of £14,000.
Shares in the company will be listed on London's AIM stock market, and the proceeds of the float will be used to pay down debt.
The flotation is the latest in a growing number of retailers which have announced plans to float their shares on the market.
On Tuesday, greetings card retailer Card Factory said it planned to list its shares, and this year has already seen flotations from discount retailer Poundland, the newsagent McColl's, and the pet shop chain, Pets at Home.