The Co-op Bank and Labour - looking at a divorce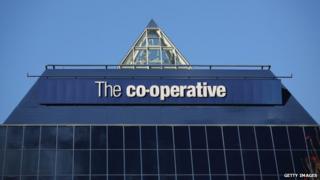 One person who must be heartily sick of the woes at Co-op Bank is Ed Miliband.
When it was revealed by the Mail on Sunday that the former bank chairman, Paul Flowers, faced allegations of drug taking it was not long before the Labour Party was dragged into the row.
The Co-operative Party joined Labour in the 1920s and around 30 MPs are still officially Labour and Co-operative Party members, including the shadow chancellor, Ed Balls. The Co-op Group - the onetime owner of Co-op Bank which now retains a 30% stake - is a Labour Party donor, although it has been reported that its support of up to £850,000 a year is under review. Co-op Group's public consultation on its strategy asked if it was appropriate for "big business" to donate to political parties. Some Co-op members believed it was loaded to get the answer "no".
For the bank, the direction is clear. Niall Booker, the chief executive who arrived from HSBC on a rescue mission following its near collapse, has said privately that he wants the bank to be apolitical. In its annual report released earlier this month the bank pointedly said that it "made no political donations". Its affinity card division - credit cards that provide support for charities and Labour and the Liberal Democrats - is being wound down.
Co-op Bank now puts support for housing associations and local authorities in the "non-core" part of its business (in other words, parts of the bank it is interested in running down or exiting). Internally, some consider that providing banking for a political party should fall under the same heading.
The present relationship with Labour runs deep. The bank itself has made £34m of loans to the party since 1992 according to Electoral Commission figures. It was reported last year that it had a £3.9m overdraft facility, although party sources say that is no longer the case. What it does have are £1.1m of outstanding loans.
Both sides are now looking to part company. I am told that Labour is already seeking to move its loans from the Co-op to the Unity Trust Bank which is largely owned and run by the trade union movement. Co-op Bank does have a 28% stake in Unity Trust, a stake it is looking to sell. With pre-emption rights, the trade unions could decide to take over the whole bank.
Once Labour has moved the loans, any other banking relations would quickly follow and Labour would no longer bank with the Co-op. And so would end a significant bit of history. When I asked Labour how long they had banked with the Co-op they admitted that the relationship was so ancient no one was old enough to remember.
Labour has had its own problems with financing, facing a £25m debt problem in 2006. It has clawed that figure back to £4.5m and is looking to wipe out its debts by the middle of next year. It already has a £1.1m loan with Unity Trust and consolidating that with the Co-op debt could well make commercial sense.
There is something for both sides in any divorce. Mr Miliband would be pleased that any mention of the Co-op Bank no longer came attached to questions about its relationship with his party. Co-op Bank, now 70% owned by American institutions, could focus on its two core targets - individual customer accounts and small business lending. I am told that both sides would be more than satisfied with such an outcome.