AstraZeneca profits hit by patent expiries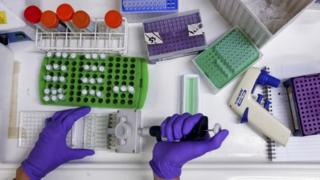 AstraZeneca has posted a drop in first quarter profits after its earnings were by hit by patents expiring on some of its older medicines.
Pre-tax profits in the quarter fell to $638m (£380m), down from $1.3bn in the same period last year.
The firm did not comment on reports that it had received a £60bn bid approach from US rival Pfizer.
Meanwhile Swiss pharmaceutical giant Novartis reported a 24% rise in first-quarter profits to $2.97bn.
The result was boost by the proceeds from the sale of its blood transfusion unit.
Earlier this week, Novartis struck a multi-billion-dollar deal with GlaxoSmithKline (GSK) to join forces and reshape their businesses.
Under the deal, Novartis will acquire GSK's cancer drugs business for $16bn and sell its vaccines division, excluding the flu unit, to GSK for $7.1bn. The two firms will also combine their consumer health units.
In a separate deal, Novartis has also agreed to sell its animal health division to Lilly for nearly $5.4bn.
It has been a busy week for deals in for the pharmaceuticals sector, as on Tuesday Canadian drugs firm Valeant offered to buy Botox maker Allergan for $47bn.
New treatments
Despite reporting a fall in first-quarter profits, AstraZeneca's revenues rose 3% to $6.42bn.
The company also flagged up progress it was making with the development of new drugs.
It said four new drugs - two for cancer and two for breathing disorders - were progressing to late-stage testing.
"We are investing in our rapidly progressing pipeline and the key platforms that are the backbone of our strategy to return to growth," said chief executive Pascal Soriot.