Rogues using Green Deal scheme as cover, says Citizens Advice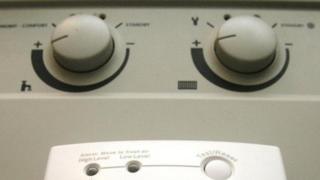 Con artists are using the Green Deal energy efficiency scheme as cover to cheat cash out of householders, Citizens Advice has claimed.
The genuine Green Deal scheme allows householders to borrow money to install double-glazing, insulation and more efficient boilers.
An initial home assessment is required, but Citizens Advice said homeowners had paid up to £500 to fake firms.
An authorised list of installers is available for people to check.
Door-to-door
The Green Deal was launched in England and Wales in January 2013 and in Scotland a month later.
Under the scheme, households get an initial assessment to calculate any savings they could make from better energy efficiency.
The costs of the work are paid up-front by the government and the customer repays them over time in the form of a loan. The idea is that the savings households make on energy bills should cover the expense of repayments.
However, Citizens Advice said that some people were being contacted through unsolicited telephone calls or by door-to-door rogue salesmen.
Victims agreed to pay a fee for an assessment, or gave their bank details for the service, only for the assessors to fail to turn up. Sometimes they assessed, but then failed to arrive to do the work agreed, the charity said.
The consumer charity said that in the six months to the end of February, it received 1,250 Green Deal complaints of which 880 were identified as a scam or possible scams. Of these, 480 were identified as being prompted by a cold call.
"The Green Deal is at risk of being undermined by fake firms," said Gillian Guy, chief executive of Citizens Advice.
"With energy prices up by 33% since 2010, households are looking for ways to save money on their bills. Opportunistic tricksters are lining their pockets by ripping-off people who are trying to cut the cost of heating and lighting their home."
The charity is calling for a ban on doorstep selling.