UK car production rises in March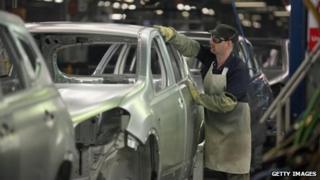 UK carmakers increased production in March, helped by demand from Europe and after a number of firms finished upgrading their plants for new models.
The Society of Motor Manufacturers and Traders (SMMT) said output had increased to more than 142,000 units, up 12% from a year earlier.
Across 2014 so far, the SMMT said production was about 3% higher on 2013.
Output fell earlier this year as some carmakers adjusted production lines to manufacture new models, the SMMT said.
Car production makes up about 15% of the UK's overall manufacturing output in terms of value.
The industry has been helped by recovering demand in Europe, which accounts for about half of the UK's car exports.
'Picking up'
SMMT chief executive Mike Hawes said the 12% growth figure was a "significant step forward after a period of product changes at the start to the year".
"After several years in the doldrums, European demand for new cars is now picking up with growth in the last seven months. This is a welcome boost for the UK's volume manufacturers for whom Europe is the key market.
"As new models are launched and investments realised, the sector remains on course for all-time record levels of output by 2017."
Earlier this month, the SMMT said that sales of new cars had risen in March at their fastest pace for a decade.
There were 464,824 new car registrations during the month, a rise of 17.7% on a year earlier.