William Hill to close 109 shops after duty rise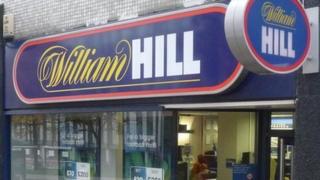 William Hill has said it will close 109 shops this year, putting 430 jobs at risk, as a result of the government's decision to increase duty on fixed-odds betting machines.
In this year's Budget, the government announced it was raising the duty on these machines to 25% from 20%.
William Hill said the decision to shut stores was "disappointing" but the duty increase made the action "necessary".
It also said operating profits fell 14% in the first quarter of the year.
William Hill said its results had been hit by "two substantial loss making weeks" following major wins for punters betting on football.
However, it said it hoped that "increased customer confidence" from the wins would boost business, especially with the World Cup starting in June.
Scaling back
When the rise in duty on fixed-odds terminals was announced in Budget the industry called the move "ill-considered".
Last month, William Hill said that the increase would cost it £22m a year.
In its latest trading update, the bookmaker - which has more than 2,400 outlets - said the shop closures were a "direct result" of the duty rise.
"This is particularly disappointing as, through the economic downturn, we have worked hard to grow our retail base but this further planned increase in indirect taxation makes this action necessary," said chief executive Ralph Topping.