Insurance premiums down despite floods, says BIBA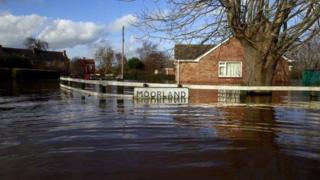 The cost of household insurance policies dropped at the start of the year, despite insurers facing a huge bill from flooding damage.
The average household premium was 5.5% lower in the first three months of the year compared with the first quarter of 2013, research by the British Insurance Brokers' Association (BIBA) found.
England had the wettest January since records began in 1766.
Some homes were under water for a month and the insurance bill topped £400m.
However, Graeme Trudgill, executive director of insurance brokers' trade body BIBA, said that insurers were able to absorb the cost with their own reserves and reinsurance.
He described the household insurance market as "very competitive" and said premiums had been low for some time.
He urged householders to ensure that they chose a suitable insurance policy for their circumstances.
The research, by BIBA and IT firm Acturis, also suggested that the average motor insurance policy was down 5.5% in the first quarter of this year compared with a year earlier.
BIBA pointed to a reduction in the number of uninsured drivers and reforms to the legal system as reasons for the cheaper policies, although prices were still higher than those seen in 2008.
The Competition Commission is investigating the £11bn private motor insurance market. It has already concluded that premiums are unnecessarily high and that the system is not working well for motorists.