Russia's credit rating downgraded by S&P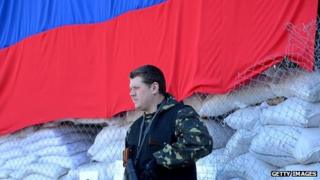 Credit ratings agency Standard & Poor's has cut Russia's rating to one notch above "junk" status.
The move comes as foreign investors continue to take money out of the country amid tensions over the situation in Ukraine.
S&P downgraded Russia's rating to 'BBB-' from 'BBB'.
Also on Friday, Russia's central bank raised its key interest rate from 7% to 7.5% as it sought to defend the value of the rouble.
Capital flight
Announcing the downgrade, S&P said: "In our view, the tense geopolitical situation between Russia and Ukraine could see additional significant outflows of both foreign and domestic capital from the Russian economy."
The agency said this could "further undermine already weakening growth prospects".
It warned that further downgrades were possible if the West imposed tighter sanctions against Moscow.
Investors have been pulling money out of Russia since last year when the country's economy ran into trouble, but this process has intensified in recent weeks amid concerns over Ukraine.
In the first three months of this year, foreign investors have withdrawn $63.7bn (£37bn) from Russia, and economic growth has slowed significantly - it is expected to grow at no more than 0.5% during 2014.
Russian shares, which have traded lower this week, fell further following the downgrade, with the MICEX stock index slipping over 1.6% at one stage.
Russia's central bank said its rate rise was because of a higher inflation risk and the weakness of the rouble. The Russian currency has lost nearly 8% against the dollar this year.
The bank said its move would enable it to lower inflation to 6% by the end of 2014 and added it did not plan on cutting rates in coming months.
Russia's Economy Minister Alexei Ulyukayev dismissed S&P's move, saying that "partially, it is kind of a politically motivated decision".
However, analysts said other credit rating agencies were likely to follow suit.
"Russia is going backwards as reflected by developments in relations with Ukraine and the West," said Timothy Ash, analyst at Standard Bank.
He said the move was "bad for investment, bad for capital flows, and bad for broader political, economic reform and institutional reform".