Siemens wants to discuss 'opportunities' with Alstom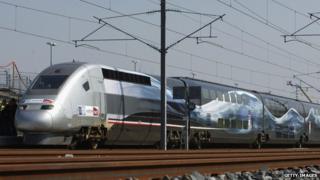 Germany's Siemens wants to talk to France's Alstom about "strategic opportunities" raising the prospect of a takeover tussle for the French firm.
Siemens contacted the board of Alstom to "signal its willingness to discuss future strategic opportunities".
It follows reports that General Electric (GE) wants to buy Alstom, the maker of TGV high-speed trains.
GE boss Jeff Immelt is due to meet senior French politicians in Paris this week, reports say.
French newspaper Le Figaro reported on Sunday that Siemens is offering Alstom half of its train-making business and some cash.
In return Siemens wants Alstom's business that makes turbines for the energy industry, according to the report.
'Other solutions'
Shares in Alstom jumped 11% on Thursday after a report said that GE was prepared to pay $13bn for the French firm.
Neither company has formally acknowledged takeover talks, but French politicians have expressed concern over the prospect of a foreign firm buying Alstom, which is one of the nation's biggest engineering companies.
France's economy minister Arnaud Montebourg has been particularly outspoken on the subject.
Last week he pledged to protect French national interests and said he would study "other solutions and scenarios" for Alstom.
It is thought Mr Immelt will meet him and other senior French politicians this week, to address concerns about a possible takeover.
Alstom is one of France's biggest private-sector employers, with 18,000 staff across the country.
As well as making trains and signalling equipment it also makes turbines for the power industry.
Alstom said on Sunday night that its shares would remain suspended from trading until Wednesday.
"Alstom continues and deepens its strategic reflection and will make a further announcement no later than Wednesday, 30 April, morning," the company said in a statement.
It added that it had "requested that the trading of its shares remains suspended" on the Paris stock exchange.