Japan retail sales surge on tax hike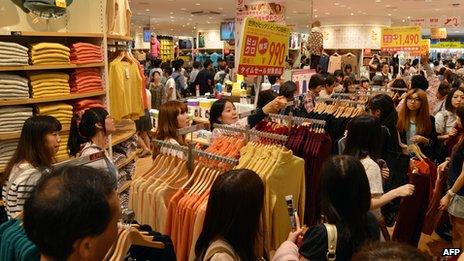 Retail sales in Japan grew at the fastest pace in 17 years in March as consumers rushed to make purchases ahead of the sales tax hike in April.
Sales jumped 11% during the month, from a year ago - the most since March 1997.
Japan raised its sales tax, also known as consumption tax, to 8% from 5% from 1 April, the first hike in 17 years.
The hike comes as Japan has been looking to rein in public debt, while facing rising social welfare costs linked to an ageing population.
Japan's public debt, which stands at around 230% of its gross domestic product (GDP), is the highest in the industrialised world.
The rise in sales tax is also seen by many as helping Japan achieve its 2% target for inflation.
Unlike many other leading economies, Japan has been battling deflation or falling prices for the best part of the past two decades.
That has hurt domestic consumption as consumers and businesses tend to put off purchases in the hope of getting a cheaper deal later on.
Policymakers have said ending that cycle is key to reviving growth in the Japan's economy and have taken various steps to achieve that.
The measures have had some positive impact and consumer prices have been rising in Japan.
The hike in sales tax has also helped fuel some of that growth.
Preliminary data released last week showed that consumer prices in Tokyo rose 2.7% in April, from a year ago, the fastest pace of growth in 22 years.
The inflation rate in Japan's capital city is seen as a leading indicator of the trend that is likely to follow across the country in coming months.
The national data for April will be released next month.