Francois Hollande meets General Electric over Alstom deal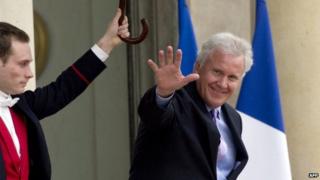 French President Francois Hollande has met the boss of General Electric's (GE) to discuss his firm's interest in buying part of engineering firm Alstom.
It follows reports the US company is preparing a deal to buy Alstom's power turbines business.
Alstom, which also makes TGV high-speed trains, is one of France's biggest private sector employers.
France's economy minister has already said the government would block any deal it sees as unfit.
"We are working to improve the offers to make sure that French companies...do not become prey," said Arnaud Montebourg, before Monday's meeting.
"On the other hand we are open to alliances that help to equip us for globalisation."
The meeting between the President and GE chief executive, Jeff Immelt comes a day after Germany's Siemens made its own approach to the French firm.
Siemens offer
President Hollande and Mr Montebourg will also meet Siemens' chief executive, Joe Kaeser, to discuss its offer for Alstom.
French newspaper Le Figaro reported on Sunday that Siemens is offering Alstom half of its train-making business and some cash.
In return Siemens wants Alstom's business that makes turbines for the energy industry, according to the report.
The two company bosses are also due to meet with Martin Bouygues, the billionaire chairman of family conglomerate Bouygues, which is Alstom's largest shareholder with a 29.4% stake.
Alstom is one of France's biggest private-sector employers, with 18,000 staff across the country.
Its share price jumped by 11% on Thursday after reports of the interest from GE, but the firm said on Sunday night that its shares would remain suspended from trading on the Paris stock exchange until Wednesday.
The French firm has suffered from heavy debts and a fall in orders over the past decade, and was bailed out by the French government in 2004.
But Mr Montebourg has ruled out nationalising the firm if neither the Siemens nor GE offers go through.