Erasmus exchanges get down to business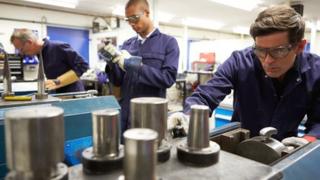 For a generation of European students, the Erasmus programme has been synonymous with having a good time while studying in another country.
Three million students have taken part in this exchange visit project over 27 years.
There were serious underlying principles about life skills, employability and getting a taste of another culture.
But it also had an optimistic international feel-good factor. This European Union project was where higher education met overseas travel and the spirit of Eurovision.
There has even been a spin-off movie about the social experience of Erasmus students house-sharing in Barcelona. It's a rom-com with lessons.
But times have changed. And so has Erasmus, which is now rebranded as Erasmus+.
The youthful idealism is being replaced with something with a harder edge and a more clearly defined strategic purpose.
Workplace skills
Youth unemployment and the lack of job skills are now the more sober background.
The relaunched Erasmus will be expected to play a much bigger role in improving workplace skills.
If the image of Erasmus has been students spending time in picturesque European university towns, it is now also about apprentices from southern Europe finding about workplace training in the engineering centres of Austria and Germany.
While most European Union budgets have been cut, Erasmus+ has received a 40% increase, with over 14bn euros (£12bn) over seven years. It will be expected to accelerate the numbers it reaches, with a target of four million young people.
A cluster of other education and training projects are also being brought under the Erasmus brand.
The European Commissioner responsible for the project, Androulla Vassiliou, has been spreading the message of the new-look Erasmus. Last week it was launched in Berlin, this week the roadshow was in London.
The urgent problem that Erasmus+ will be expected to help tackle is the economic and social damage of having 26 million people unemployed across the European Union, with six million of them young people.
"It is the biggest challenge that Europe faces," she says.
But Ms Vassiliou spoke of the "paradox we face in Europe" in the mismatch between young people's skills and the jobs available.
Apprenticeship swaps
At the same time that unemployment is high, there are two million job vacancies across the European Union where employers cannot find people with the right skills.
The underlying problem is the lack of good vocational education - and she wants countries with serious problems with youth unemployment, such as Spain and Greece, to learn from more successful training systems operating elsewhere within the EU.
"We know that in countries where they have high-quality vocational skills and training, like Germany and Austria, their youth unemployment is very low.
"We are encouraging partnerships between countries that have a good system of vocational training with countries that don't have it, in order to learn from each other."
Ms Vassiliou said she wanted to encourage cross-border approaches to some of the root causes of young people being unable to find work - such as poor reading skills, a lack of foreign languages and dropping out of school at too early an age.
In the UK, the Erasmus+ project will provide funding of almost a billion euros (£820m) over seven years, with the aim of reaching about a quarter of a million students. Within the UK, Erasmus+ will be delivered by the British Council.
'Knowledge alliances'
Skills Minister Matthew Hancock welcomed the expanded remit and said it was "absolutely realistic" to envisage exchange visits for vocational learners as well as university students.
"The idea of spending part of your apprenticeship overseas in countries which have brilliant apprenticeship programmes is a very attractive one," he said.
Mr Hancock also backed the more focused approach of the revamped Erasmus. "Reform is about making sure where European money is spent it's spent properly."
Erasmus+ will still have an important role for higher education and schools. The funding will support exchanges of two million students and 800,000 lecturers, teachers and education staff.
There will also be support for exchanges with countries outside the European Union.
Universities will be backed to form 150 international Knowledge Alliances, where institutions and businesses from different countries will work together on promoting innovation and entrepreneurship.
The role of the European Union is to support the increasingly important international dimension of education, says Ms Vassiliou.
"The world of education is globalising and facing a set of common challenges that demand co-operation, the cross-border transfer of innovation and the sharing of ideas," she said at the launch event in London.
And she wanted the exchanges between students from different countries to continue "opening minds and changing lives".