Nokia names Rajeev Suri as new chief executive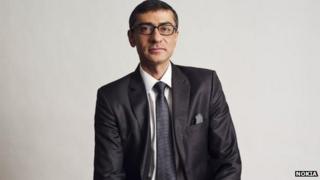 Nokia has named Rajeev Suri as its new chief executive.
The 46-year-old has until now led Nokia Solutions and Networks (NSN), the network equipment unit of the firm.
NSN is set to become Nokia's key business, following the sale of its mobile phone unit to Microsoft last week for 5.44bn euros ($7.5bn; £4.5bn).
The sale saw Nokia's former chief executive, Stephen Elop, leave the firm to become executive vice-president of the Microsoft devices group.
Risto Siilasmaa, chairman of Nokia, said Mr Suri had "a proven ability to create strategic clarity, drive innovation and growth, ensure disciplined execution, and deliver results".
Indian-born Mr Suri has worked at Nokia for 20 years and had led NSN since October 2009, helping to make it profitable.
The company also announced that it would pay a special dividend of 0.26 euros ($0.36) per share - subject to shareholder approval - in 2014 as a result of the sale of its mobile phone unit.
The extra dividend amounts to about 1bn euros.
Future strategy
Nokia said it would now focus on networks, mapping services, technology development and licences.
The Finnish company said it expects billions of devices to become interconnected over the next 10 years across a range of sectors such as transportation and health.
It said this development would require increased connectivity to handle the growing data traffic, improved location services as well as innovation in areas such as radio and low-power technologies.
"Nokia's vision is to be a leader over the long term in these three areas," the firm said.
But it faces challenges in achieving that, a fact that was highlighted by its latest results, also released on Tuesday
Its first-quarter sales fell by 15% from a year ago to 2.67bn euros, dragged down mostly by a drop in sales at its networks division.
However, its underlying operating profit rose 20% from a year ago to 304m euros during the period.
The firm said it expects sales at the networks unit to rise in the second half of the year.