Oil giant BP reports $3.2bn profits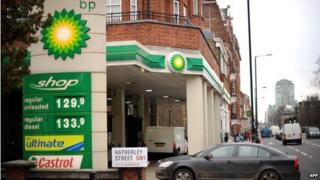 Oil giant BP has reported a 23% drop in profits to $3.22bn (£1.92bn) for the first quarter of 2014.
The underlying replacement cost profit figure, which strips out the effect of oil price movements, compared to profits of $4.22bn recorded in the same period in 2013.
But the latest figure was still ahead of analyst forecasts.
BP also said it would increase its dividend by 8% to 9.75 cents a share - the second increase in six months.
BP said its first quarter results had been affected by lower production and write-offs in its exploration activity, including $521m from a decision not to proceed with a shale project in Utica, in the U.S.
The company said it expects production to edge even lower in the second quarter.
Compensation and legal costs relating to the 2010 oil spill in the Gulf of Mexico had not risen in the quarter and remained at $42.7bn, BP added.
Russia sanctions
BP's profits, compared to the previous quarter, were also hit by a falling contribution from its 20% stake in Russia's Rosneft.
On Monday BP said it would not sever its ties with the Russian energy firm, despite Rosneft's chief executive being the target of another round of US sanctions.
Igor Sechin is on a list of individuals thought to be in Vladimir Putin's "inner circle", whose assets will be blocked in the US, following Russia's intervention in Crimea and Ukraine.
But BP said it would continue to work with the company, despite the sanctions, which prevent US companies from engaging with those named.
Mr Sechin has said sanctions imposed on him will not affect Rosneft.