The Californian ski resort praying for snow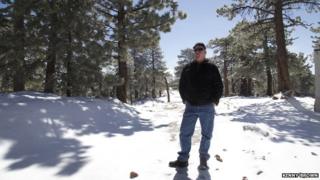 It takes just over an hour to drive from the heart of Hollywood to Mount Waterman, the nearest ski resort to Los Angeles.
You travel up a windy mountain road, and into an alpine world where mobile phones don't work, and there are no hotels, no shops, no petrol stations.
And no snow. Well, not enough to run a ski facility.
Standing 2,450m (8,030ft) above sea level, Mount Waterman has historically had no problem getting enough snowfall.
In the past you could often ski there as late as May. You could go skiing in the morning, and then hit a beach in the afternoon.
But as California continues to be affected by one of the worst droughts in its history, it hasn't snowed enough in two years for Mount Waterman to be able to open.
"I skied here every winter as a kid," says Rick Metcalf, who, together with family members and friends, bought and refurbished the facility eight years ago.
"It always snowed. This drought has just been crazy. I've never seen anything like it."
A late April snowstorm recently dusted Mt Waterman with about 5cm of snow, giving Mr Metcalf and his co-owners a glimmer of hope. But the reality is that they need a covering of about 1m to be able to open.
And so for the past two years, the message on the resort's website has been much the same: "Hill is closed. Praying for snow."
"We've become a bit of a lost ski area," says fellow owner Craig Stewart. "People have forgotten we're up here."
'Terrible year'
Following two consecutive years of well below average rainfall (and snowfall) across California in 2012 and 2013, the state's drought is now continuing in 2014 with no end in sight.
So much so that a state of emergency was declared back in January.
For California's handful of small independent or "mom-and-pop" ski resorts, they have simply had to shut up shop.
They cannot afford to spend millions of dollars on snow-making machines, and even if they could, it would require more water than they are allowed to use in a drought.
"It's been a terrible year for California all over with this drought - for all the resorts," says Bob Roberts, the president and chief executive of the California Ski Industry Association.
Mr Roberts adds that skiers usually spend a lot of money in California, with the industry generating an average $1.3bn (£765m) in direct investment in the state per year. However, he expects this year's figure to be significantly lower.
Food impact
California's drought is of course also greatly affecting other businesses, particularly the state's farmers, which in turn has a knock-on effect on consumers and businesses across the US.
Roughly 50% of fruit and vegetables in the US come from California, and prices have been steadily rising as a result of reduced crops and farmers passing on the price of irrigation.
The cost of Californian reared beef has also increased, as a lack of grass has meant farmers having to buy in hay. Beef prices have soared to a two-decade high, with ground beef priced at $3.55 a pound - that's up 56% since 2010.
And the cost of other staples such as milk, butter and eggs have also gone up.
"Retail prices will keep rising," says Timothy Richards, a professor at Arizona State University, who specializes in agribusiness. He says the cost of avocados will probably rise by 20% and lettuce by 32%.
"People tend to ignore a drought - until it hits their wallet," Prof Richards says. "How willing are they to give up lettuce and avocados?
"How much more will they pay? They make salads with lettuces, and they're going to still make salads and have to pay more for lettuce."
Mr Richards adds: "It's nefarious - just when the government is trying to get consumers to eat more fruits and veg. It's mother nature conspiring to thwart our policy."
California's salmon industry is also being hit hard by the drought because river levels are too low for the juvenile fish in hatcheries in the state's Central Valley to be able to swim to the coast.
So instead millions of little salmon are being trucked to deeper rivers and streams nearer the Pacific Ocean.
"We may even have to truck the adult fish back up," says Richard Pool, the owner of Pro-Troll, which sells fishing equipment.
"[And] if the forecasters are right, the water will be so warm that eggs won't hatch."
He says that many people in California's salmon business went bust in the drought of 2008-09, but that his business survived because he started selling his equipment globally.
Mountain biking
Back at Mount Waterman, which has 27 ski runs and three chair lifts, the owners hope the business can survive by adapting.
They plan to diversify to include opening in the summer for mountain bikers and hikers, and perhaps even holding concerts.
They are also hoping to invest in some snow-making equipment.
"We're an hour away from about 13 million people," says Mr Metcalf, whose day job is in real estate.
"Mountain biking is coming into its own. I know it's going to work."
Mr Metcalf adds that he got out of several major property investments in 2006 - just before the US housing market crashed - in order to buy Mount Waterman. So despite the subsequent woes at the ski resort, he says: "It wasn't all bad timing."
He and his co-investors did try to sell the business for $1.65m in 2009, but Mr Metcalf says they are now committed to its future.
And while he admits to checking weather forecasts obsessively, he says he's optimistic about the mountain's future, and he doesn't blame global warming for the run of bad luck.
"Next year could be an El Nino year, and we could see 3ft of early snow," he says.
"It's an adventure, it's a beautiful place, and people are so happy when it's open and going. I don't look at it as a money maker now - but someday it will be. I know that."