Japan Airlines profit hit by weak yen and higher costs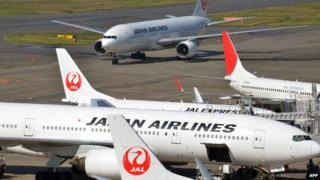 Japan Airlines (JAL) has reported a dip in full-year profits, which it says is mainly due to the weaker yen pushing up costs.
The carrier earned 166.25bn yen ($1.6bn; £950m) for the year to March, a 3.2% drop from the previous year.
A fall in the value of the Japanese yen, while a boost for exporters, is bad for Japan's aviation industry.
That is because it pushes up the cost of fuel, which is usually the biggest expense for an airline.
In a statement, JAL said its annual fuel bill had reached 283bn yen, which is about 25% of the carrier's operating costs.
The Japanese yen has lost about 25% of its value against the US dollar since late 2012, when Japanese prime minister Shinzo Abe embarked on a string of policies to spur economic growth.
'Intensifying competition'
For the current financial year to March 2015, JAL is forecasting a lower net profit of 115bn yen.
The airline said it was facing "intensifying competition at Tokyo metropolitan airports as a result of the dramatic increase of international flight slots at Haneda airport".
Nearly 80 flights currently arrive and depart from Haneda airport each day, which is a 50% jump from a year earlier.
Haneda, Tokyo's second airport, is situated about 30 minutes from the city. Authorities have earmarked the facility as a gateway for visitors to Tokyo in anticipation of high passenger numbers when the city hosts the Olympic games in 2020.