Alstom to consider $17bn General Electric offer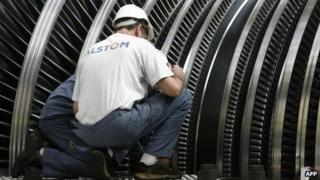 French engineering company Alstom is considering a $16.9bn (£10bn) offer from US firm General Electric (GE) for its energy business.
But the French firm said it would be open to a rival bid from German firm Siemens, which is also interested in its power turbines business.
Siemens has said it would make an offer if given access to Alstom's books.
Both bidders have already met French President Francois Hollande to discuss their potential offers.
GE's chief executive, Jeff Immelt, said he had had a "productive two-way dialogue" with the French government.
"We think we've got a good deal and it's going to be executed," he added.
'Strategic merits'
Alstom, whose power business generated $15bn in sales last year, said it would use the proceeds of a GE deal to concentrate on the other side of its business, which makes TGV high-speed trains.
In a statement, the French firm said its board recognised "unanimously the strategic and industrial merits" of the GE offer, and that it would make a decision by the end of May.
"Alstom's employees would join a well-known, major global player, with the means to invest in people and technology to support worldwide energy customers over the long term," said Alstom's chairman and chief executive, Patrick Kron.
But the company also said it would give Siemens access to its books so the German firm could weigh up a competing bid.
Mr Hollande, who met the bosses of Siemens and GE on Monday, said the French government would place a priority on preserving jobs at one of the country's key industrial firms.
France's economy minister has already said the government would block any deal it sees as unfit.
For either deal to go through, Alstom would also need the backing of Martin Bouygues, the billionaire chairman of family conglomerate Bouygues, which is the firm's largest shareholder with a 29.4% stake.
Rolls-Royce bid
Alstom has about 93,000 employees in 100 countries around the world, and employs about 18,000 people in France.
The engineering giant had to be bailed out by the French government in 2004, and has suffered heavy debts and a fall in orders over the past decade.
Separately, British engineering firm Rolls-Royce has confirmed it is in talks with Siemens over the sale of its gas turbine and compressor business.
The Rolls-Royce offer is part of a new strategy that the German engineering group will present on 7 May, a Siemens spokesman said.