Brazil property prices: Fears of 'bubble' in home costs
By Katy Watson
South America business reporter, BBC News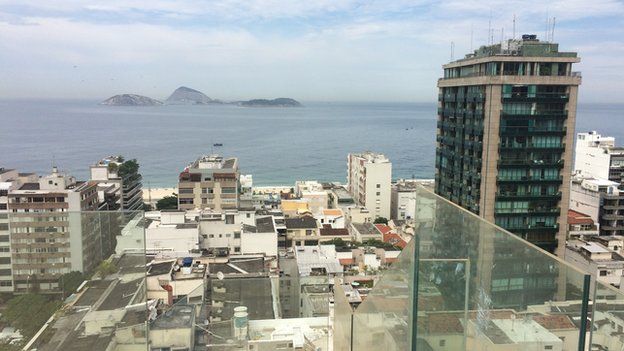 House prices have soared in Brazil's big cities as salaries have grown and mortgages have become easier to obtain. But while millions of homeowners have benefited, others struggle to pay their bills.
In the first of a two-part look at Brazil's housing market, we examine how Rio de Janeiro has become the country's prime property hotspot.
Standing by the rooftop pool of a luxury penthouse, Juliana Guzman proudly points out Rio's tourist hotspots - first, the Cristo Redentor (Christ the Redeemer), one of the city's best-known landmarks.
Then there is the famous Ipanema beach, loved by both Brazilians and tourists. And in the distance, the Dois Irmaos (Two Brothers) peaks at the end of the beach, which make for a spectacular sunset here in Rio.
This view could be yours too - for a princely sum of $3m (£1.8m). Or if the budget does not stretch, it is rented for $15,000 (£8,900) a month.
It is one of dozens of flats Ms Guzman markets through her luxury property company Rio Exclusive - a business that has been very healthy in recent years.
Prices started rising when Brazil secured the 2014 World Cup, and kept going when Rio was named as host of the 2016 Olympic Games.
Now, she says, it is both Brazilians and foreigners who are cashing in on a city in the international spotlight.
"Everyone keeps talking about a bubble but people will keep buying in Brazil even if the prices are high," she says, adding that more and more businesses are moving to Rio.
"People see this as an opportunity to get a good return on their investment."
The owner of the penthouse has certainly done well - he bought it for $2m (£1.2m) just two years ago.
According to the FIPE-ZAP index, property prices in Rio have risen more than 250% in the past six years. In nearby Sao Paulo, they have climbed 200%.
Open any newspaper here in Brazil and you are bombarded with adverts trying to sell the latest new launch of apartment blocks. There is even a bottle of whisky on offer from one company trying to tempt potential buyers to a new development.
But Luis Carlos Ewald, professor of finance at Fundacao Getulio Vargas in Rio, says the excitement surrounding property prices - especially in Rio because of the World Cup and the Olympics - has got out of hand.
"Will foreigners coming here enjoy being hit by a bullet, being robbed?" he asks, sarcastically referring to Rio's high crime rate. "Will they find this exciting and stay on afterwards? It's a complete joke - we were living in a fantasy and we're now returning to reality."
The rising prices have sounded alarm bells for some international economists too.
The word "bolha" - Portuguese for "bubble" - is a word brought up frequently when it comes to housing.
Robert Shiller, the man who predicted the collapse of the US market, recently warned Brazil was facing a housing bubble of its own.
But it is a controversial subject here. "He was wrong," says Mailson da Nobrega, a former finance minister and founder of Tendencias economic consultancy in Sao Paulo.
"It's not a classic bubble that was inflated through credit. Credit isn't the source of house price increases in Brazil - it's an imbalance between demand and supply."
Mortgage lending has certainly become easier in recent years - financing for homes in Brazil rose 32% last year, climbing to a record high of 109.2bn reais (£29bn; $49bn) according to ABECIP, which represents the country's mortgage lenders.
Most economists agree Brazilians are buying their homes to live in, not to make a quick profit.
If you look at the percentage of mortgage lending as a proportion of the economy, the figures for Brazil are still low - less than 10%.
Compared with Chile at about 20% and the US at about 70%, Brazil still has a long way to go to catch up.
"It's a psychological bubble," says economist Luis Vivanco. "Brazilians have this mentality that by buying a property, they have more security than putting money in a bank. People feel richer."
There is no doubt that Brazil's strong economic growth in recent years was partly fuelled by consumer credit - people have been spending money they did not have before - and that includes property.
But now the country is facing slower economic growth and, in an effort to rein in stubbornly high inflation, interest rates are at their highest level in more than two years.
All these factors could put a stop to that feeling of wealth in the future.
Next week, we look at how rising property prices have given momentum to housing movements that take over unoccupied land and buildings, to try to highlight low-income workers who cannot afford to pay their rent. We report from Sao Paulo, Brazil's biggest city, which has the country's worst housing shortage.