New pensions advice will be rudimentary, admits minister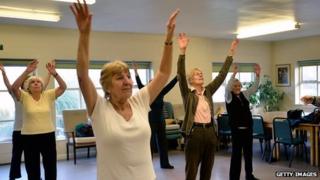 The quality of new pensions advice that people get when they retire will be "fairly rudimentary", Pensions Minister Steve Webb has admitted.
As part of its pension reforms, the government is planning to offer free face-to-face advice to people planning their retirement.
But Mr Webb told a committee of MPs that the guidance provided would be very basic.
He said the advice would help "get people to the starting gate".
"We are not expecting someone to have a post-doctorate in financial education to deliver this guidance guarantee," he told MPs on the Works and Pensions Select Committee.
"It is fairly general. It is fairly broad," he added.
Providers
The plan to give people free financial advice comes alongside pension reforms, which will give people more freedom over how to spend their retirement savings.
From April 2015, people will be able to take as much money as they like out of their pension pots and will not be obliged to buy an annuity - an income for life.
However, apart from a 25% tax-free lump sum, they will have to pay income tax on any money they withdraw.
Mr Webb said the government was still consulting on what the advice would include and who would provide it.
"We're talking to the Pensions Advisory Service, the Money Advice Service and Citizens Advice to see whether they might play a role," he said.
He said a £20m fund set up for the purpose would not be used to provide the advice.
Instead, it would be the provider of the advice who would pay for it.
Face-to-face
Mike Thornton, the Liberal Democrat MP for Eastleigh, said the £20m fund was "totally inadequate" and suggested there could be an industry levy to fund the service.
Steve Webb said that would be a heavy cost, but the option would be considered.
He said the £20m was purely "seed-corn money, to get the thing going".
And he announced that there would be further support beyond the face-to-face advice.
"The guidance will be complimented by literature and websites," he said.
"It is not just about the one person who has the conversation."