Spain's economy grows at fastest rate since 2008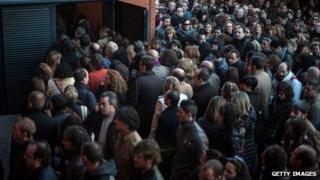 Spain's economy grew at its fastest quarterly pace since 2008 during the first three months of the year, according to the country's National Statistics Institute.
Gross domestic product (GDP) rose by 0.4% in the January to March period, the data showed.
Compared with a year earlier, Spain's economy grew by 0.6%, the fastest pace in three years.
But retail sales dropped by 0.5% in March, the biggest fall since December.
Jose Luis Martinez, an economist at Citi, said: "Retail sales were very weak, and that's a little worrying."
He said the drop in sales could reflect weak domestic demand, suggesting growth in the second quarter of the year would be slower than in the first.
Despite signs of improvement in Spain's economy, the number of people in employment fell by 184,600 in the quarter just below 17 million, the lowest level for the first quarter since 2008.
The country's unemployment rate edged up to 25.9% from 25.7% in the fourth quarter of 2013.
Spain emerged from recession in October last year. It was one of the countries hit the worst by the fallout from the credit crisis, as its housing bubble burst and its banks needed government bailouts to survive.
It has the second-highest unemployment rate in Europe after Greece.