Waiting for a shanty home in Brazil's 'tent cities'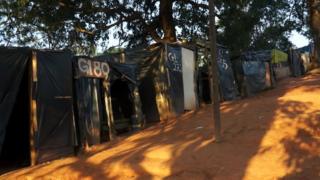 House prices have soared in Brazil's big cities in recent years and while more Brazilians are buying their dream homes, there are plenty who cannot afford to do so, as the BBC's South America business reporter Katy Watson found out in Brazil's biggest city, Sao Paulo.
High on a hill in the west of Sao Paulo is Capadocia, one of the city's newest neighbourhoods. But there are no streets here, just paths made of mud - and there are no street lights either.
In fact none of the houses - if you can call them that, for they are all made of tarpaulin - has any electricity.
Capadocia is one of Sao Paulo's many "occupations" - unused bits of land that have been taken over by housing movements to highlight and protest about the chronic shortage of decent housing in big cities like Sao Paulo.
Capadocia is run by the Homeless Workers' Movement. Rebeca de Jesus Alcantara is one of the residents.
She is 35 and has two children, one of whom is autistic. She recently separated and could no longer afford her rent, so she moved to this "tent city".
"It only has two beds - I share with my younger son," she says. "It has no bathroom either."
Yet despite the difficult living conditions, there was a waiting list to come here.
This has since closed and now people have to move to even newer tent cities that have sprung up in the few months since this once was established.
And the housing movements are not just taking over hillsides, they are also occupying abandoned buildings in the centre of town.
Wealthy residents left long ago to escape to more affluent suburbs but rents here still often exceed the minimum wage of around $300 (£180) a month.
As prices keep rising, empty buildings are becoming increasingly popular targets for squatters.
If you take a walk through the streets and look up, dozens now have graffiti scrawled all over their facades, with flags hanging from the windows, identifying which housing movement is in charge here.
The Marconi occupation near Sao Paulo's municipal theatre is run by the Movement for Housing for All. A 13-storey commercial building in the heart of the city, it is home to 170 families.
Only people who are known to the movement can enter - a man keeps watch from inside, removing a metal crow-bar once he is satisfied the visitor poses no threat.
Once inside, signs throughout the building warn residents that drink and drugs are not tolerated and that everyone has to respect each other.
Anyone misbehaving is thrown out, and there is even a cleaning rota so every resident has a role to play.
The woman in charge of this building is Welita Alves Caetano, who lives here with her partner and two young daughters.
"The government's investing billions for the World Cup," she says.
"But they don't have the money to invest in education, in housing and health. When we sit down at the table with them, they say they don't have the funds."
Sao Paulo officials say around 230,000 families in the city need to be housed.
However, according to the Brazilian research institute, IPEA, there is a housing shortage of more than half a million homes in the city - and twice that in the state as a whole.
The government is trying to address the issue, according to Jose Floriano de Azevedo Marques Neto, Sao Paulo municipality's housing minister.
"We are more than doubling the investment and construction of social housing," he tells me, comparing his administration with the previous one.
His department aims to build 55,000 houses in the next two years.
There are also state-wide programmes as well as a huge federal housing programme Minha Casa, Minha Vida (My House, My Life) which started in 2009 with the aim of building a million homes for low-income families - it has since expanded.
But Welita says promises are not enough, more action needs to be taken - and until the government does that, they need to keep fighting.
Without a fight she says, they will never achieve their goals of dignified housing for everyone.
With no signs of property prices falling, occupations remain the only way forward for many families here in Brazil.