House prices show monthly fall, says Land Registry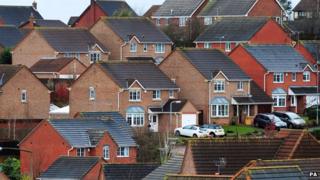 House prices in England and Wales fell in March, according to data from the Land Registry.
Between February and March, prices went down by 0.4%, bringing the average price of a house to £169,124.
It follows similar data from the UK's biggest mortgage lenders, the Halifax and the Nationwide, which suggested the market may have cooled over the spring.
However, the Land Registry figures show a continuing rise in the annual inflation rate, to 5.6%.
"The Land Registry data add to other signs that some of the froth may have recently come off the housing market - at least temporarily," said Howard Archer, chief UK economist with IHS Global Insight.
Unlike other measures of the housing market, the Land Registry figures are based on actual sale prices.
They also include cash buyers, which can account for as much as a third of sales.
Help to Buy
Separately, the government has announced that 19,394 homes were sold under the first year of its Help to Buy (equity loan) scheme.
The scheme, which allows home-buyers to take out an equity loan for up to 20% of the purchase price, was launched in April 2013.
Some 87% of sales were to first-time buyers.
The Treasury has also given out £791m in loans over the year - money that is, in effect, a stake in the housing market.
If homeowners borrowed 15% of the value of their home, they will have to pay 15% back when they sell the property. So if the value has gone up in the meantime, the government will benefit.