Annual house price growth hits double digits, says Nationwide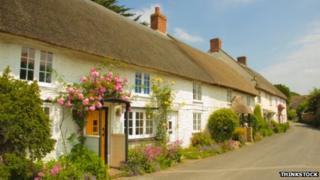 Annual house price growth in the UK has hit double digits for the first time in four years, the Nationwide has said.
In the year to April, prices rose by 10.9%, the first annual double-digit growth since April 2010 and the fastest rate since June 2007.
The news may scotch other suggestions that the housing market has been cooling over the last few months.
This week the Land Registry - which records actual sales - said prices fell by 0.4% in March.
But the Nationwide believes prices have now resumed their upward trend.
"After several months of moderation, the pace of house price growth picked up in April, with prices rising by 1.2% during the month," said Robert Gardner, Nationwide's chief economist.
Nationwide said the average UK house price now stood at £183,577.
The interactive content on this page requires JavaScript
New rules
Once again, the figures hide a sharp contrast between London and the rest of the UK.
Prices in the capital are now about 20% higher than they were before the financial crisis of 2007-08, said the Nationwide.
But prices in the rest of the country are still around 2% lower than their pre-crisis peak.
Some experts believe prices might once again moderate over the next few months, following the Mortgage Market Review by the Financial Conduct Authority.
This imposes stricter rules on lending, with borrowers facing a series of stringent questions about their spending habits.
People for whom a mortgage is judged to be unaffordable may be refused a loan altogether.
"However, underlying demand is likely to remain robust, as mortgage rates remain close to all-time lows, and as consumer confidence improves further," said Mr Gardner.
'New Home Zones'
Meanwhile, a separate report claims that house prices in England could double over the next 10 years.
Average prices could hit £446,000 by 2024, said the study by accountancy firm KPMG and the housing charity Shelter.
The report also says that by 2040 more than half of 20 to 34 year-olds will still be living with their parents, if current trends continue.
"For many people, particularly those in their twenties, the aspiration of owning their own 'castle' is fast becoming a fairy tale," said Marianne Fallon, UK head of corporate affairs at KPMG.
"We also know, as an employer of 12,000 people, that an unstable housing market affects our ability to attract and retain talent," she said.
The report calls on the next government to boost the supply of affordable housing.
Among the measures it recommends are the setting up of "New Home Zones", which would be self-financed by rising land values.
It also suggests the setting up of a National Housing Investment Bank to issue loans for housing providers.