Game of Thrones boosts Time Warner's profits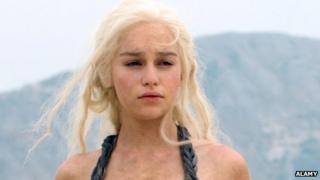 The success of Game of Thrones and The Lego Movie helped Time Warner nearly double its year-on-year profits for the first three months of 2014.
The company, which owns TV network HBO, reported a net income of $1.3bn (£770m) for the first quarter of 2014, compared with $754m (£447m) last year.
It said the latest Game of Thrones premiere drew in the most HBO viewers since the end of The Sopranos in 2007.
Revenues rose by 9% to $1.33bn, also driven by HBO subscriptions.
Consolidation of HBO's Nordic and Asia branches also bolstered Time Warner's revenues, the company said.
Vijay Jayant, an analyst at financial research firm ISI, said: "The Turner networks and Warner Brothers continue to perform well, but we believe HBO could be the real growth story."
Last week, Amazon announced it had reached a deal with HBO to show the channel's hit programmes on its streaming service, Amazon Prime.
One of HBO's rivals, the online video content company Netflix, announced a revenue increase of 36% to $1.07bn in the first three months of the year, helped by popular series such as House of Cards.
On Tuesday, animation studio DreamWorks reported its first net loss, at $42.9m, for five quarters, partly due to the weak box office performance of Mr. Peabody and Sherman.
It made a shortfall of $57m for the film, which had high production costs.
Shares in DreamWorks fell 10% on Wednesday following the news.