Mortgage approvals falls further, Bank of England says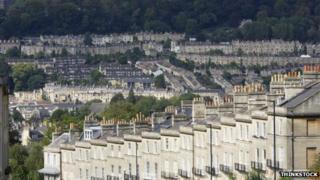 Mortgage approvals in the UK fell again in March, according to the latest figures from the Bank of England.
The number of mortgages approved in March fell to 67,135, down from 69,592 in February.
The February figure was itself lower than January's. Mortgage approvals have now fallen by 11.9% in the past two months.
The figures, which are the lowest since October 2013, came as some surprise to experts in the City.
They will also support those who argue that the UK is not in a housing bubble, as they show mortgage offers are running at half the level they were during the last housing boom.
Approvals peaked at 133,000 a month in November 2003.
However, figures from the Nationwide Building Society - also released on Thursday - indicated that house price inflation was at its highest for seven years.
'Easing back'
One possible explanation for the fall in lending is that banks and building societies may have tightened up on lending procedures even before the the Mortgage Market Review (MMR) rules came in at the end of April.
"It is likely that the further easing back in mortgage activity in March from January's peak level reflected some banks raising their mortgage lending standards before the new regulations," said Howard Archer, the chief UK economist at IHS Global Insight.
Under MMR, lenders have to scrutinise borrowers more closely, to check they can afford the loan in question.
Another reason may be that people have been unable to apply for mortgages, due to a lack of homes on the market.
Recent figures from the Royal Institution of Chartered Surveyors (RICS) have shown low numbers of homes being put up for sale - suggesting many people are reluctant to move.