Nokia, Apple and creative destruction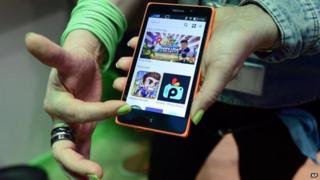 The final part of Nokia's sale to Microsoft is finalising the payoff to its former chief executive, Stephen Elop. He has received $33.5m, which is 30% higher than thought due to the link to the company's stock that has risen since the sale was announced.
As for that share price, Nokia was once worth $150bn only seven years ago, but has now been sold for just $7bn. How did all of this market value disappear?
The idea of creative destruction was popularised by Joseph Schumpeter in his 1942 book, Capitalism, Socialism and Democracy. He described how the economy underwent long cycles as new technologies were adopted, while at the same time existing technologies were made obsolescent and replaced.
The transition from old to new was rarely seamless and led to the rise and fall of not just individual businesses but entire industries.
For Nokia it was the culmination of a rapid rise and fall. It introduced its first handheld mobile phone in 1987 and by 1998 had overtaken Motorola to become the global market leader in handset sales. In 2005 it sold its one billionth phone. Its peak was probably in 2007. By then its share of the global handset market had reached 40%, including nearly half the smartphone market at the time, with its market capitalisation hitting $150bn.
Last year, its global market share had fallen to just 15% and this was mainly accounted for by its range of cheaper phones. Its share of the global smartphone market was just 3%.
A similar story of boom and bust describes the Canadian firm Research in Motion (RIM). Back in 2003 it launched the Blackberry. By allowing people to email from their phones its popularity grew quickly, with its secure network favoured by businesses and governments. The addictive nature led to it be nicknamed 'crackberry'. By the middle of 2008, the company was valued at around $70bn.
But the subsequent decline was steep and the landing hard. Last year, Blackberry posted losses of $1bn and announced plans to cut 40% of its worldwide workforce. Haemorrhaging cash and sitting on a stockpile of $930m worth of unsold handsets, it was bought out in September by a consortium led by Toronto-based private equity group Fairfax Financial. The price was just $4.9bn.
So in the last few years, Nokia and RIM have seen roughly $200bn evaporate. How?
Back in 2007, Steve Jobs walked onto the stage at the Moscone Center in San Francisco, pulled an iPhone out from his pocket and talked of a revolutionary product that would change everything. The rest, as you say, is history. Apple's take off, along with Google's Android system, has mirrored the decline at Nokia and RIM.
Adapt or die
So where did Nokia and RIM go wrong? Were they just the latest victims of creative destruction in the digital age?
In January 2012, after more than 130 years of history, Kodak filed for bankruptcy. It had once sold more than 90% of all film in the US and its little yellow boxes could be seen all around the world. Although it was coming under increasing pressure from Japan's Fujifilm, the death of the company was simply because they were out-innovated in the technology they had pioneered for over a century.
Ironically, Kodak had developed a prototype for the digital camera in 1975. But by the time they realised it was a game changer, it was too late. Cannon and Fuji had already established a decisive lead in the digital camera market.
Kodak is not an atypical story. A large incumbent company, successful for decades, finds it difficult to adapt to new technologies while it makes good profits in the traditional business areas. They are then left adrift once the whole industry has shifted for good. The lesson is adapt or die.
Is this also true of Nokia and RIM?
Nokia was innovative in hardware and was the dominant force at the outset of the smart phone market. However, Apple, and then Android, saw the value of software. Apple's touchscreen technology changed the way people used their phones and its App store was easy to use.
Perhaps Nokia showed a lack of urgency. In the early days of the iPhone era, the drop off in global market share was gradual rather than abrupt and it retained its position as the market leader.
Nokia and Microsoft had been courting for several years before their recent marriage. Nokia launched its Lumia smart phone with Microsoft Windows in 2010 but it struggled to gain market share until the price was dropped significantly. The plan going forward is to target the cheaper devices market, especially in emerging markets where smartphones are not yet widely affordable, which it sees as a $50bn opportunity.
Blackberry was primarily designed for business users and was left stranded when, alongside the rise in social media, innovation in the mobile phones market became strongly consumer-led. RIM failed to respond to the consumerisation of IT.
In the high technology era, consumers expect constant innovation and are quick to punish the products that fall behind. The pace of creative destruction has quickened and brands are no longer as resilient as they once were.
Richard Foster, co-author of the book Creative Destruction, describes how stock market churning has increased over the past five decades. Back in 1958, the average tenure of the companies listed on the S&P 500 US share index was 61 years. By 1980, this had fallen to 25 years, and it is now down to 18 years. At this current rate of churning, three-quarters of the firms currently listed on the S&P 500 will be replaced by 2027.
Could Apple's empire fall?
Apple continues to go from strength to strength. Last quarter, it made bumper profits of over $10bn driven by growing international sales. At the end of 2013 it topped the Financial Times Global 500 list of most valuable traded companies - worth a staggering $500bn.
However, Sony is a cautionary tale. During the 1980s and early 1990s, Sony was the Apple of its day. The Japanese company was synonymous with quality in the electronics industry.
In 1979, it launched the iconic Walkman. Even when cheaper personal stereos flooded the market, the demand for Walkmans remained high because people trusted the brand. During the 1990s, it teamed up with Phillips to perfect the compact disc media format, but that was probably the peak.
Minidisc came and went never achieving mass adoption. The Blu-Ray format has done well but the market is quickly being filled by streaming online content delivery. According to In-Stat, Blu-Ray will be the last physical format in home entertainment and will only achieve 40% of the DVD market.
When Apple launched its iPod in October 2001, Sony was criticised for being slow off the mark in the MP3 market. Since then it has been downhill.
In January this year, Moody's downgraded the stock of the company to junk status, stating that Sony faced severe challenges to improve its sales and profitability, and noting that its core businesses were subject to obsolescence and rapid change in technology.
It is very premature to forecast the eventual decline of Apple. But, Sony, Kodak, Nokia, RIM exemplify the forces of creative destruction.