Government negotiates on terms of AstraZeneca takeover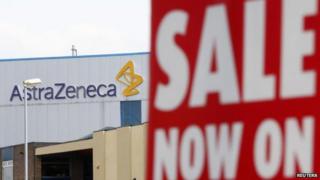 For better or worse, AstraZeneca's days as an independent British company seem to me to be numbered (and see my note of yesterday).
How so.
Well the government is intervening in the proposed takeover of AstraZeneca by the US giant, Pfizer. But not to block the deal.
Rather the chancellor, who is in the lead for the government on all this, wants to make sure that if it happens, the UK's valuable medical and scientific research base is not imperilled.
Or at least that is what very well-placed government and City sources tell me.
Detailed negotiations with Pfizer on all this are being led for the government by the cabinet secretary, Jeremy Heywood, a former Morgan Stanley banker, and John Kingman, a former Rothschild banker.
They are working on a mandate from the chancellor and prime minister that views the proposed deal as a potentially "huge inward investment" in the UK, according to a government official.
"This is a massive vote of confidence in the UK's tax regime, in the openness of our economy and in our science base" said the official. "But obviously we want to make sure that Pfizer does make binding commitments not to shift important research out of the UK".
What this unambiguously implies is that there is a side deal to be done between Pfizer and the government which would clear the way for the takeover of AstraZeneca - which would then simply become a negotiation between Pfizer and AstraZeneca's shareholders, intermediated by AstraZeneca's board, on the price of the takeover.
If talks progress in the way Pfizer would like, then the US giant would announce the terms of its offer next Tuesday, I am told, the day after its results.
It would be the biggest ever takeover by a foreign company of a UK one, and arguably the most controversial, given the importance of AstraZeneca to the UK's industrial and scientific base.
Pfizer has said that the legal home or domicile of the combined group would be in the UK, to take advantage of tax rules here seen as advantageous.
But its shares would be listed in the US, much of its management would be in the US, and it would be widely seen as a US company.