LinkedIn shares fall on weak outlook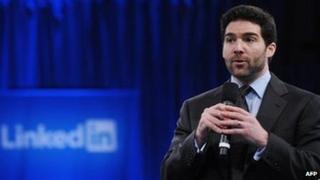 Shares in professional networking site LinkedIn fell more than 6% in after-hours trading after it posted a weaker-than-expected revenue outlook.
The firm forecast full-year revenues of between $2.06bn and $2.08bn (£1.2bn), lower than analysts' outlook of $2.1bn.
It also reported a loss of $13.4m for the January-to-March period, compared with a $22.6m profit a year ago.
The numbers come amid growing concerns that social networking sites may see their pace of growth slow.
Earlier this week, shares of Twitter tumbled nearly 11% after the firm reported weaker-than-expected growth in its user base.
'Strategic priorities'
The rate of revenue growth at LinkedIn has slowed for five quarters in a row.
The slowdown has hurt its shares, which have fallen 25% since the start of this year, after rising 89% in 2013.
For its part, the firm has been looking to tap into new growth areas.
Earlier this year, it launched a beta or test version of its Chinese language site, in a attempt to boost its presence in the country - the world's biggest internet market.
The firm's English language site has been available in China for more than a decade and has four million users in the country.
LinkedIn said the Chinese language site would help it connect 140 million Chinese professionals with each other and with millions of global users.
Jeff Weiner, chief executive of LinkedIn, said the first quarter had been a strong one for the company "in terms of our member engagement and financial results".
"We made significant progress against several strategic priorities including expanding internationally with our China launch," he added.