Eurozone unemployment numbers fall in March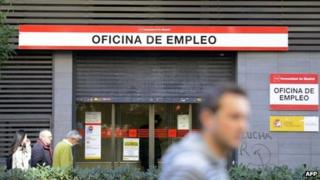 Eurozone unemployment numbers have fallen slightly to 19.81 million, according to EU figures for March.
Unemployment for the area is down from 19.84 million in February.
The unemployment rate has remained at a steady 11.8% since December 2013, but numbers of unemployed in the area have gradually fallen since January.
The figures bolster European Central Bank (ECB) projections of steady economic growth in the currency area, economists said.
Timo del Carpio, European economist at RBC Capital Markets, said the figures "lend more weight to the view that unemployment in the euro area peaked late last year, which will offer some degree of reassurance to policymakers that the recovery is slowly gaining traction."
The March unemployment figures are an average for the 18 countries in the eurozone. There are large differences in employment between countries.
Austria had the lowest rate of unemployment, at 4.9%, while the country with the highest unemployment rate for March was Spain, at 25.3% unemployment.
However, the most recently available figures for Greece put unemployment at 26.7% for January.