Tiger Airways shares slump on widening losses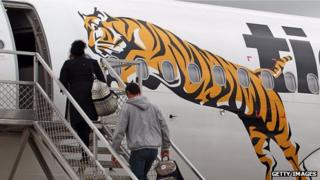 Shares in Singapore-based budget carrier Tiger Airways slumped by as much as 8%, to a one-month low, after it posted widening losses.
The firm saw its losses rise to $96m Singapore dollars ($76m; £45m) in the January-to-March quarter, from S$15m during the same period a year earlier.
It also issued a bleak outlook and said it plans to review its Indonesian joint venture Tigerair Mandala.
The firm has been struggling to compete in an increasingly crowded market.
"Due to an industry over-supply of capacity, Tigerair continues to operate in a challenging business environment," Tiger said in a statement.
"It is expected that yield and load factors will remain under pressure."
Tiger is partly-owned by Singapore Airlines and has lost about a quarter of its market value this year. Its shares fell to 40 Singapore cents on Monday.
Tough competition
Rising incomes across Asia have led to an increased demand for air travel.
As a result, many budget airlines in the region have ordered additional aircraft and launched new routes.
There are about 50 budget carriers operating across the region, with Malaysia's AirAsia being the largest.
According to Airbus, discount carriers now account for 25% of total seats in Asia, up from 2% a decade ago.
However, some analysts have warned of an oversupply being created in the market as an increasing number of carriers look to cash in on the growing demand.
There are concerns that as competition in the sector heats up, airlines may be forced to lower their fares in an attempt to attract customers.
Any such moves are likely to impact their profitability.