Target's chief executive resigns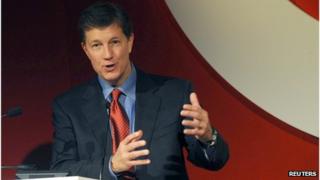 US retailer Target has announced the resignation of its chief executive and chairman, Gregg Steinhafel.
It follows a difficult year for the retailer, which was the victim of a data breach that shook customer confidence and hurt profits.
Up to 70 million customers had payment card and personal data stolen from the company's databases in December.
Target's chief information officer, Beth Jacob, who oversaw Target's computer systems, resigned in March.
In a statement, the US retailer said: "After extensive discussions, the board and Gregg Steinhafel have decided that now is the right time for new leadership at Target."
Chief financial officer John Mulligan will take over as interim president and chief executive, the company added.
Roxanne Austin, a current member of Target's board of directors, has been appointed as interim non-executive chair of the board.
Data breach
The data breach cost Target $17m (£10m) and the firm said that it was overhauling its security systems.
In March, the firm reported a 46% plunge in profits. It earned $520m in the three months to 1 February.
The company has already said that it can not estimate future expenses relating to the breach and has issued a profit warning for 2014.
It is being sued by at least 11 customers over the security breach. The lawsuits, each seeking class-action status, were filed in US courts.
At the end of April, Target announced that Bob DeRodes, who has 40 years' experience in information technology, was its new chief information officer.
At the time, Target said it was continuing its search for a chief information security officer and a chief compliance officer.
Tough at the top
Mr Steinhafel joined Target as a trainee in 1979 and in a career spanning 35 years worked his way to the top.
He had been the firm's chief executive since 2008.
Target has struggled in recent years, partly because of a difficult expansion into Canada, but also growing competition from rivals.
Under his leadership, Target began to expand into fresh groceries and also introduced a 5% discount to customers who used its branded debit and credit cards.