US trade deficit falls in March on strong exports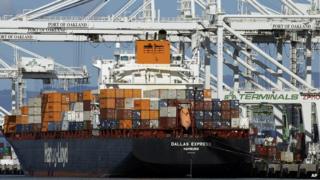 The US trade deficit fell in March, as exports surged to the second highest level on record.
The Department of Commerce reported a deficit of $40.4bn in March, a 3.6% decline from February's $41.9bn.
Strong exports of aircraft, automobiles and food and drink helped boost exports to $193.9bn. Exports to Canada, South Korea and Germany hit record levels.
Imports rose 1.1% thanks in part to growing demand for mobile phones, clothes and machinery.
Many economists are forecasting a decline in the trade deficit this year as export growth is expected to beat growth in imports.
In total, March exports were $3.9bn more than February exports of $190bn, while March imports were $2.5bn more than February imports of $231.8bn.
Exports of services and non-petroleum goods hit a record high in March.
The three-month moving average of the trade deficit, which is designed to smooth out any monthly volatility, increased to $40.5bn in the three months to March, compared with $40bn in the previous three-month period.
February's deficit was revised down to $41.9bn from a previously reported $42.3bn.