China's gigantic market and its growing firms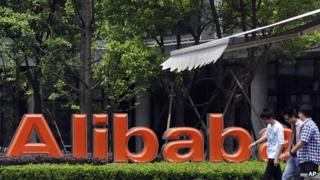 We always knew that China's potential market is huge, but today's prospectus from giant e-commerce firm Alibaba is a reminder as to how large it already is.
According to CNNIC, the Chinese Internet agency, there are 618 million Internet users. There's another 700 million people in China so about half of the population is currently online.
Impressively, 500 million are mobile internet users. And, 302 million shop online which is 7.9% of total consumption in China.
So, there's another one billion people who can shop online and thus a lot more scope for online commerce.
China's biggest e-commerce firm Alibaba says that it accounts for 76% of the mobile merchandise market which works out to $37 billion last year.
Share sale
I've written about how their business is similar to Amazon, eBay, and a few others all rolled into one.
So, its IPO can be viewed as a chance for global investors to buy into the rapidly expanding Chinese middle class.
It is also another example of a Chinese company "going global", particularly by choosing to take its listing to the US.
Indeed, the location of the IPO has been a point of debate.
Choosing to list in New York instead of Hong Kong, which is where big Chinese firms tend to list, is due to the founder, former schoolteacher Jack Ma's desire to retain control of the company.
I've written about how Hong Kong won't allow it, but New York would permit a founding minority shareholder to control the company like Facebook's Marc Zuckerberg.
Of course, these days, for investors, it's not as big an issue, but it is a sea change from large Chinese companies that had favoured the home market.
Record setters
So, with the push for Chinese companies to become multinationals and competitive on the world stage, plus the size of the Chinese market, it's unsurprising that the biggest IPOs on record are Chinese.
According to Dealogic, the biggest IPOs have been the Chinese banks, Agricultural Bank of China and ICBC.
This is followed by the insurer AIA and then US company Visa. If Alibaba raises $20 billion from its IPO, then it would be larger than Visa and rank as the fourth largest IPO of all time.
It means that of the top 5 biggest IPOs, three would be Chinese companies. Of course, there are valuation issues around the Chinese state-owned commercial banks with their state-funded deep pockets.
But, Alibaba isn't state-controlled, so its sale of shares would be a better reflection of what to expect from Chinese firms.
On the other hand, I've written about concerns over a tech bubble and Chinese companies won't be immune.