Janet Yellen says the US economy is on the mend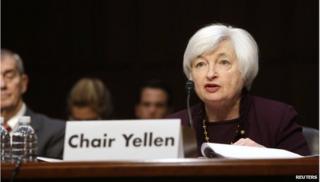 In testimony in front of the US Congress, Federal Reserve chair Janet Yellen said the US economy is on the mend but reaffirmed the central bank is prepared to act should it falter.
She said the Fed saw the US economy rebounding after a brutal winter that slowed growth.
However, Ms Yellen added jobs growth has still not recovered.
"A high degree of monetary accommodation remains warranted," she said in prepared remarks.
In a slight departure, she chose to mention how events abroad - including turmoil in emerging markets and the ongoing crisis in Ukraine - could impact US growth.
"One prominent risk is that adverse developments abroad, such as heightened geopolitical tensions or an intensification of financial stresses in emerging market economies, could undermine confidence in the global economic recovery," she said.
Continued pullback
Currently, the Fed has been in the process of reducing its monthly bond buying programme known as quantitative easing, in which billions of dollars of bonds are purchased in an attempt to keep long-term interest rates low and stimulate growth.
Last week, the Fed announced at the end of a two-day policy meeting that it would trim its bond-buying by a further $10bn, bringing its total monthly bond purchases down to $45bn from the peak of $85bn.
Ms Yellen did not signal that the Fed would slow down this so-called "taper", even if jobs growth remains less than ideal.
However, she did note that weakness in the housing market could impact economic growth.
US markets reacted in a mixed-fashion to Ms Yellen's testimony: the Dow Jones Industrial Average rose over 100 points, while the technology-heavy Nasdaq fell, mostly as a result of scepticism over technology stocks like Twitter and LinkedIn.