Real Madrid 'most valuable' football club says Forbes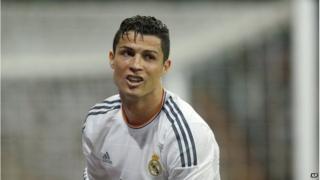 Real Madrid has been named the most valuable football club in the world with a worth of $3.4bn (£2bn), according to Forbes.
The Spanish team, owned by its fans, grew 4% in value this year, says the magazine.
Manchester United is the third-most valuable, although it took an 11% tumble to $2.8bn.
It is among five UK clubs in the top 10, followed by Arsenal, Chelsea, Manchester City and Liverpool.
Bayern Munich, also owned by club members, was the fastest-growing club, with a 41% increase in value to $1.9bn for 2014. Bayern were made Bundesliga champions for the 24th time in March.
Real Madrid's Cristiano Ronaldo tops the list of highest-earning football players, with earnings of $73m.
Coming in second is Barcelona's Lionel Messi, the four-time world player of the year who earned a total of $65m last year from salary and endorsements.
Barcelona is the second most valuable club, Forbes found, with a worth of $3.2bn