Toyota profit nearly doubles to $17.8bn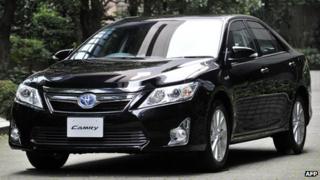 Japanese carmaker Toyota has seen its profits nearly double, boosted by the yen's weakness and cost cutting.
It made a net profit of 1.82 trillion yen ($17.8bn; £10.5bn) in the year to 31 March, up from 962bn yen a year ago.
But that was lower than its February forecast of 1.9tn yen profit.
Japan's firms, especially those relying on exports, have benefited from the weakness in the yen which helps lift their profits when they repatriate their overseas earnings back home.
The Japanese yen has weakened by nearly 18% against the US dollar since the start of 2013 amid aggressive policy measures by the government.
Toyota, the world's biggest carmaker, said the yen's weakness boosted its profits by nearly 900bn yen during the past financial year.
Subdued forecast
The firm also issued a weaker-than-expected forecast for the current financial year.
It expects its profit to fall to 1.78 trillion yen in the financial year to 31 March 2015.
The firm said its sales in Japan were likely to decline this year. It expects to sell nearly 1.45 million units of its Toyota and Lexus brand vehicles in Japan in the current financial year, down from 1.65 million in the previous 12 months.
Analysts have been cautious about prospects for Japan's car manufacturers this year, not least because of the rise in the country's sales tax.
Japan increased the rate of its sales tax - also known as consumption tax in the country - to 8% from 5% from 1 April this year.