Vienna's chocolate cake war
By Helen Soteriou
Business reporter, Vienna, Austria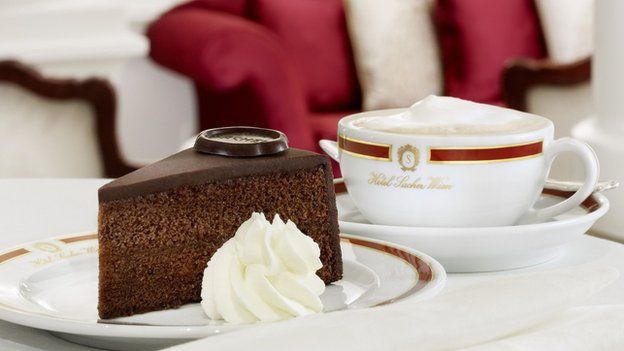 They take chocolate cake so seriously in Vienna that the city's two main producers once fought a nine-year legal battle about it.
The dispute was known as the "cake war".
The cake in question is the sachertorte, a chocolate sponge covered with chocolate icing, and filed with a layer - or two - of apricot jam.
For many visitors to the Austrian capital, enjoying a slice of delicious sachertorte is an essential thing to do during their stay.
And there are two famous, rival places to go for the cake - Hotel Sacher or the Demel cafe.
A classic example of a duopoly, the two businesses more than dominate the sachertorte market, both in Austria, and overseas via online sales.
The legal battle, which ran from 1954 to 1963, was centred on which had the right to call its sachertorte the "original" one.
The case was complicated by the fact that the son of the chef credited with inventing the cake, in the 19th Century, had connections to both businesses.
However, eventually an out-of-court settlement was agreed, under which Hotel Sacher became the one that could say it was the original producer of the sachertorte.
As the years have progressed, this has given Hotel Sacher a massive branding advantage over Demel, helping it to be able to sell both more cakes, and at a higher price.
With many small and medium-sized firms around the world in duopoly situations, such as the two pubs in a village, or the two hairdressers on the same suburban street, the battle between Hotel Sacher and Demel is a good case study with which to explore how a business can best deal with having just the one big rival.
The two companies and aficionados may disagree, but the rival sachertortes taste very similar.
Silia Eleftheriadou, who lives in Vienna and blogs about the city under the name The Viennese Girl, says the two cakes are "pretty difficult to distinguish".
Yet Hotel Sacher, which remains family owned, outsells Demel by five to one.
Hotel Sacher sells about 360,000 sachertortes per year, while Demel - which is owned by an Austrian catering group - sells about 67,500.
And Hotel Sacher charges a fair bit more. Via its website a 19cm (7.5in) diameter sachertorte costs 36.50 euros ($50.40; £29.80).
Meanwhile, Demel will sell you a 20cm sachertorte for 30.70 euros.
But how much of Hotel Sacher's lead over its rival comes down to it being able to call its sachertorte the original one?
Branding expert Martin Lindstrom says having original tag has been an "important factor", but adds that Hotel Sacher has done a lot more to successfully raise awareness of its brand.
"Sacher has been incredibly good at building on their brand, the famous cake, the story line, and, most importantly, maintaining the perception [of being the original]," he says.
Mr Lindstrom adds that Hotel Sacher has simply worked hard to make its name better known or "more visible" than Demel.
Brian Morgan, professor of entrepreneurship at Cardiff Metropolitan University, says that companies in a duopoly situation, such as Hotel Sacher and Demel, "have to take into account their competitor in everything they do".
Instead of just focusing on the needs of customers, duopoly businesses "always have to second guess what the other is doing".
Prof Morgan adds that the price or price differentiation between the two companies's products usually "gravitates towards a stable level that they can both just about live with".
As a result of this he says that the two companies are "forced to do everything other than price competition to get an advantage".
"So it comes down to things like marketing or branding, these become vital," says Prof Morgan.
"Duopoly firms typically invest hugely in their brand, in their provenance, in convincing the customer that they are the real authentic product, even if they are pretty similar to their rival."
Kevin Mole, associate professor of enterprise at Warwick Business School, agrees that firms in a duopoly have to constantly look at the other company.
"You can consider cutting your prices to get an advantage, but what if your rival follows suit?" he says. "You could start a price war, and would you win it? You have to work out the outcome of every possible scenario."
Instead, Dr Mole says it is a safer bet for a duopoly company to focus on having the better reputation.
"Say, for example, you have two hairdressers in a village, over time one will be viewed as the better one," he says. "You want to be that business."
Dr Mole adds: "Being in a duopoly is a much more strategic game than being in a big marketplace with many other companies."
To help raise brand awareness, both Demel and Hotel Sacher often send their chefs to various functions around the world to promote their cakes.
And in recent years Demel, which employs 100 people, has opened a shop in New York.
Demel's biggest overseas markets are Italy, Russia, France and Japan, while Hotel Sacher's main foreign markets are Germany, the US, China and also Japan.
At Hotel Sacher, which employs 360 people, 50 directly involved in making its sachertorte, chief executive Elisabeth Gurtler says you "can taste the difference" between its cake and that of Demel's. She adds: "It is a big difference."
Additional reporting by Will Smale.
Related Internet Links
The BBC is not responsible for the content of external sites.