ECB holds rates but Draghi hints at policy change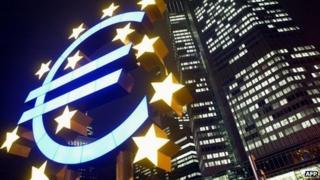 European Central Bank president Mario Draghi has hinted the bank's policymakers may act soon to reverse the eurozone's prolonged low inflation.
The ECB chief said on Thursday that the monetary authority was "not resigned" to low inflation, which at 0.7% is well below the 2% target.
The comments followed that ECB's decision to keep its benchmark interest rate at a record low of 0.25%.
Low inflation makes it harder for people and businesses to reduce debt.
Persistently low inflation across the eurozone has prompted growing calls for the ECB to cut rates to head off deflation risks.
But some analysts believe that recent positive economic data and improved financing conditions have reduced the urgency to act.
Mr Draghi said that the ECB would have new projections in June on the likely direction of inflation.
He said that the 24-member ECB council was "dissatisfied about the projected path of inflation" and is "not resigned to have too low inflation for too long a time".
However, he added that the ECB was "comfortable with acting next time", raising expectations that the bank could alter policy in June.
The euro fell on the comments to below $1.39, having earlier broken the $1.40 mark for the first time since November 2011.
Eurozone interest rates have been unchanged since November 2013.
Mr Draghi has been saying for months that the bank expected "a prolonged period of low inflation".
He said in April that if the inflation outlook was to deteriorate, the ECB could respond with a "broad-based asset purchase programme", probably quantitative easing - effectively printing money to buy assets.
Luke Bartholomew, investment manager at Aberdeen Asset Management, said: "ECB meetings are starting to have a Waiting for Godot feel: every month we think Draghi can't go any longer without doing something and every month we're left waiting."
Earlier on Thursday, the Bank of England held UK interest rates at 0.5%.