Ukraine refuses Russian demand for advance gas payment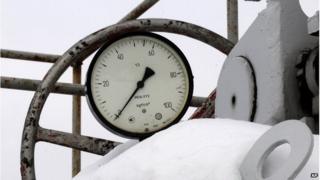 Ukraine will not pay in advance for Russian gas at Gazprom's new, higher price, the Ukrainian Energy Minister Yuriy Prodan has said.
Russia made the demand after saying Ukraine had failed to pay the bill for its April natural gas deliveries.
The bill was calculated using the new rate of $485.50 (£286.50; 350 euros) per thousand cubic metres of gas.
Prior to April, the Russian state-owned energy firm charged $268.50 for a thousand cubic metres.
"We cannot pay in advance at the price [of] about $480 per thousand cubic metres," the Interfax-Ukraine news agency quoted Mr Prodan as saying.
Russia's energy ministry said Ukraine had missed a deadline to pay debts worth $3.5bn and that all gas sent from June will have to be paid in advance.
Protest fallout
In February, months of street protests culminated in the removal from power of Ukraine's pro-Russian president, Viktor Yanukovych. He had decided not to sign an association agreement with the EU, opting instead to join Russia's customs union.
But the interim government has reversed course. In return, the EU is providing development assistance, a loan of $2.2bn, the temporary removal of customs duties on Ukrainian exports to the EU, and a programme to lessen Ukraine's energy dependence on Russia.
Previously, Ukraine's gas imports were subsidised in return for Russia's lease of a naval base at Sevastopol in the Crimea region of Ukraine, the home of the Russian Black Sea fleet. But since Russia annexed Crimea last month, that agreement is no longer valid