Pharma fight: The rules of battle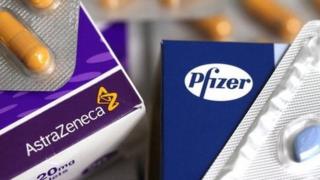 Pfizer's proposed acquisition of AstraZeneca would be the UK's biggest takeover. Fears about the impact on jobs and the UK's knowledge economy have reached fever pitch. Politicians are demanding answers. And yet, there is no formal offer on the table - nor any certainty there will be. So what are the rules governing takeovers?
Takeovers: who makes the rules?
The takeover of companies listed on the the UK stock market is overseen by the Takeover Panel. This is a group of financial and legal experts who enforce a set of rules called the Takeover Code.
The code sets a timetable for any proposed takeover, so that a company and its shareholders are not left in a permanent state of uncertainty.
Even though Pfizer has not formally bid for AstraZeneca, when the US firm announced on 28 April that it was interested in buying its UK rival this set in motion a timetable. Pfizer has until 17:00 on 26 May to say whether it will make a firm bid. That said, there is scope for this deadline to be extended.
The code covers a variety of issues, such as disclosure of information, guarantees that a bidder has finance in place, and even, in certain circumstances, the bid price for shares.
Much will depend on whether a bid is agreed (has the backing of the target company's board of directors) or hostile (where the bid is rejected by management, and the predator appeals directly to shareholders).
Can the UK government stop a takeover?
Unlike some other countries, the UK is more relaxed about foreign takeovers. The government has powers to veto certain deals, such as those involving defence and media companies, and apply a "public interest test".
But exercising such powers is rare indeed. Besides, is AstraZeneca really a strategic business? And if making drugs is strategic, why wasn't the UK's car industry?
The government's scope to intervene is also limited by the European Commission. Big mergers and acquisitions - and this takeover would certainly be big - are regulated by Brussels, which generally takes a dim view of national governments trying to usurp its powers over such matters.
It's possible that the UK could try to impose a new "public interest" category to cover the pharmaceuticals or life sciences sectors, or perhaps a wider category to protect jobs. But that process could take several weeks and, in any case, many lawyers believe Brussels would block it. Under EU law, takeovers are examined for their impact on competition, not on jobs.
I thought the UK got tougher powers after the Cadbury takeover?
The 2010 acquisition of Cadbury by Kraft was controversial because the US food giant had promised to keep open a UK factory. But Kraft later backtracked.
That prompted a revamp of the Takeover Code, although just how much tougher the rules became is disputed.
The aim of the changes was to strengthen the hand of the target company, requiring the bidder to give more information on the impact on jobs and strategy. The changes also gave greater importance to the views of employees.
Even though Pfizer has not formally bid for Astra, the US company is considered to have already given a lot of information about its future intentions to continue operations in the UK.
As one analyst told the BBC: "In the battle for hearts and minds, there's no mileage for Pfizer in being secretive about its intentions."
How come other countries can block takeovers they don't like?
Are you thinking of France, perhaps? Certainly, "economic patriotism" seems far more important for France and some other European countries than for the UK.
France famously fended off a foreign bid for Danone, a food company, by declaring that it was strategically important. The government is currently trying to see off GE, a US company, from taking over Alstom - albeit by engineering a deal with Germany's Siemens.
But in France and elsewhere, much of the opposition tends to be sabre-rattling and cajoling - which, admittedly, can be important. And such opposition does not always work. Intense opposition from Paris did not stop India's Mittal Steel from taking over rival Arcelor.
The difference of approach in the UK and some of its European neighbours often comes down to free-market thinking. The UK believes its economy benefits from having a more open-door approach; some other countries think otherwise.
Ultimately, though, France is subject to the same takeover and competition rules as anywhere else in the European Union.
Can a company buy a rival, even if the target firm opposes it?
Most certainly - and it happens frequently.
This issue comes back to the question of hostile bids. When a company makes a formal takeover offer, the board of the target company can either recommend or reject it (or tell shareholders to "take no action"). Ultimately, though, it will be the big institutional shareholders - not the board - that decide who is victorious.
If a hostile takeover is launched, the predator and the target will go into overdrive trying to persuade shareholders, the media, and politicians of the merits of their case. Often, major City shareholders will hold stakes in both companies.
The trouble with hostile bids is that they can be de-stabilising for the companies, the shareholders, customers, and management reputations. Such bids are called "hostile" for a reason.
In the case of Pfizer, its public position is that it has not ruled out any option in its pursuit of AstraZeneca. The US company will be taking soundings from Astra shareholders, but many analysts believe it would difficult to "go hostile" if the UK drugs firm and the UK government was lined up against it.