Samsung chairman Lee Kun-hee recovers from heart surgery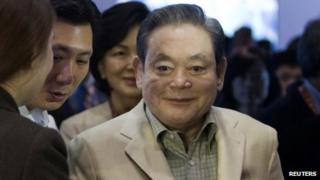 The chairman of Samsung Electronics is in a "stable condition" after undergoing emergency heart surgery, says the Samsung Medical Center.
Lee Kun-hee underwent the operation after suffering breathing difficulties late on Saturday night.
The hospital said he was "now recuperating in a stable condition after undergoing an operation".
Mr Lee took over as chairman of South Korea's biggest business in 1987 after his father's death.
He is credited with turning the company into an international force in the technology market. It has overtaken Apple as the world's largest smartphone maker.
Mr Lee stood down as chairman in 2008 after being charged with tax evasion.
He was convicted on the tax charges, but was given a presidential pardon in 2009 and returned to lead Samsung in 2010.
Mr Lee has previously undergone lung surgery in the 1990s and has reportedly suffered respiratory problems since then.
The South Korean news agency, Yonhap, says that he stays overseas in the winter to prevent respiratory ailments.
Forbes estimates Mr Lee's net worth to be around $10bn (£6bn) and he is South Korea's richest man.
His son and two daughters have senior positions at Samsung and it is thought that his son, Jay Lee, currently vice-chairman, will eventually succeed him.