Japan's Sharp returns to profit after restructuring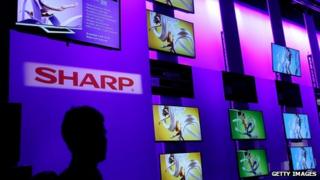 Japanese electronics maker Sharp has reported its first annual profit in three years following a huge restructuring.
The firm reported a net income of 11.6 billion yen ($114m; £67m) in the 12 months to March, which was more than double its own forecast.
It also expects net profit to triple to 30bn yen in the coming year.
Sales increased by 18% to 2.93tn yen on increased demand for smartphones and solar panels.
Sharp is Japan's largest maker of liquid-crystal displays (LCD), which are used in televisions and smartphones such as Apple's iPhone.
Sharp has cut jobs and sold stakes in its LCD units as part of an effort to overhaul its underperforming electronics business.
The Osaka-based company has also been helped by the weak value of the Japanese yen, which has spurred sales by making its products cheaper overseas.
Sharp also saw a spike in sales in its home market of Japan, saying it "enjoyed the last-minute demand before the consumption tax hike" which began on 1 April.
Shares of Sharp closed down 6.3% in Tokyo ahead of its earnings announcement.