Ex-Barclays executives face fraud office questioning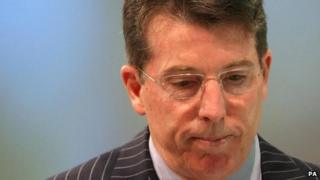 Several ex-Barclays bank executives are expected to be questioned under caution by the UK's Serious Fraud Office over a deal with investors in Qatar in 2008.
They include former chief executive Bob Diamond, who is among about 12 former senior managers due to be quizzed.
John Varley, another ex-chief executive, was also named by the Financial Times as due for interview.
The interviews are part of an inquiry by the SFO into allegations about £322m in payments during the Qatar deal.
According to the Police and Criminal Evidence Act, an interview under caution does not compel someone to answer questions. However, "it may harm your defence if you do not mention when questioned something which you later rely on in court."
The SFO has been investigating claims that Barclays paid £322m in fees to investors in order to gain their support for a £5bn fundraising.
Barclays raised the finance as the global financial crisis unfolded.
A spokesman for Mr Diamond said that the banker "will continue to assist wherever he can on anything related to Barclays, but he is unable to comment on any specific inquiry".
Mr Diamond works in the US, but visits the UK regularly and is expected to schedule an appointment with the SFO over the next few weeks.
Barclays faces a £50m fine from the Financial Conduct Authority over the Qatar payments. The FCA said the bank "acted recklessly" and breached some disclosure rules. However, Barclays is contesting the fine and says the fees were for advice.
Barclays and the SFO declined to comment, while Mr Varley could not be reached.