Sharp shares rise as it returns to profit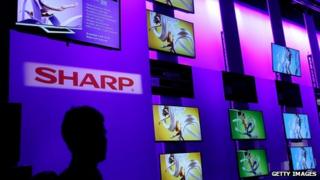 Shares in Japanese electronics maker Sharp rose as much as 7.7% to 279 yen on the Tokyo Stock Exchange on Tuesday after it swung back to profit.
Sharp reported a net income of 11.6bn yen ($114m; £67m) for the financial year to 31 March on Monday.
Its profit, which was double its own forecast, was the first in three years.
Sharp is Japan's largest maker of liquid-crystal displays (LCD), which are used in televisions and smartphones such as Apple's iPhone.
However, it had been hurt in recent years by slowing demand, a strong Japanese currency and growing competition.
As a result, the firm implemented a major restructuring programme.
The restructuring, which saw Sharp cut jobs and sell stakes in its LCD units, has started to have some impact on its profitability.
The company has said it expects its net profit to triple to 30bn yen in the current financial year.
Sharp has also been helped by the weak value of the Japanese yen, which has spurred sales by making its products cheaper overseas.
A weak yen also boosts profits of Japanese firms when they repatriate their foreign earnings back home.
Sharp was also helped by a spike in sales in Japan as consumers rushed to buy goods ahead of the rise in sales tax which was implemented from 1 April this year.