Australia aims to nearly halve budget deficit in a year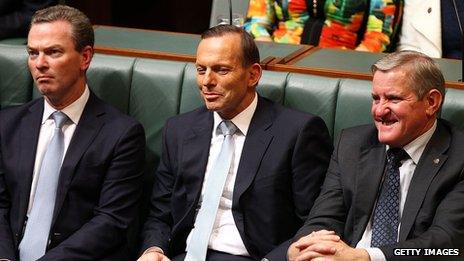 Australia's government aims to nearly halve its budget deficit over the next year through a combination of tough spending cuts and tax increases.
In his speech to parliament, Treasurer Joe Hockey said "the age of entitlement is over" and that "the days of borrow and spend must come to an end".
Under their plans, the deficit is forecast to fall from $50bn Australian dollars ($47bn; £28bn) to $30bn.
However, the spending cuts are expected to result in thousands of job losses.
The economic blueprint also includes plans for the possible sale of assets such as the Royal Australian Mint and aural aid-maker Australian Hearing.
For the financial year starting 1 July, the government is looking to spend A$11bn on key infrastructure projects such as roads, railways and a new airport in Sydney.
They also announced plans to create a A$20bn medical research fund in a bid to help diversify its economy away from its reliance on mining.
The government also fielded a proposal to raise Australia's retirement age to 70 by 2035, to combat the problems associated with an ageing population.
Australian Chamber of Commerce and Industry chief executive Kate Carnell welcomed the move, saying: "This is the budget we had to have.
"It's a budget that delivers short-term pain for all of us, including short-term pain for business, but there is significant long-term gain for Australia," she said.
Australian Prime Minister Tony Abbott is using his first term to push through the controversial cuts, which his coalition hopes will return Australia's budget to surplus in the next decade.
Their aim is to bring Australia's finances into the black in time for the next round of elections, which are due to be called by 2016.
In the interim, though, foreign aid and welfare programs will have less funds and several government entities will be downsized.
This includes Australia's state broadcaster, which will lose its contract for an international television service into Asia.
The Australian Broadcasting Corporation will see its ability to run the Australia Network terminated this year for failing to be "cost-effective".
Overall though, 16,500 employees from across Australia's public sector are expected to lose their jobs because of the new budget.
The government did not include defence spending in its cuts, and said it had allocated $84m to the continuing search for missing Malaysian Airlines plane MH370.
Australia has been leading the effort to find the missing Malaysian airliner, which went missing on 8 March with more than 239 people onboard.
Officials believe the plane ended up in the Southern Indian Ocean, where a massive search and rescue operation has been underway for more than two months.
The government documents state that the amount will depend on several factors, including the length of the search and international contributions.
In the budget, the government forecast the Australian economy will grow by 2.5% this year.
It has been looking to offset the effects of the end of the decade-long country's mining boom.
Australia's economy has been carried by China's demand for natural resources such as iron ore and coal. However, that trend has reversed as the world's second-largest economy slows down.
As a result, Australia's central bank has kept interest rates at a record low of 2.5% to help stimulate the economy as mining investment cools.
The Australian dollar showed little reaction following the announcements, since many of them were expected by market participants.
"We knew it was going to be a tough budget and that's what it is," said Michael Blythe, chief economist at Commonwealth Bank.
Related Internet Links
The BBC is not responsible for the content of external sites.