Heathrow and Gatwick unveil revised expansion plans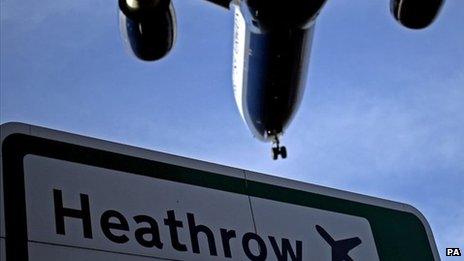 Heathrow and Gatwick airports have both unveiled revised expansion plans in an attempt to secure permission to build the UK's next runway.
Heathrow has proposed improved compensation worth £550m for those affected by its plans for a third runway.
Gatwick has said its plans will keep fares low and create 120,000 jobs.
Both have submitted their plans to the Airports Commission, charged with deciding how to expand UK air capacity.
The government-appointed body will choose between a second runway for Gatwick and either a third runway for Heathrow, or extending the northern runway to the west.
However, it will not make its recommendation until 2015 after the general election.
Heathrow has promised that the owners of 750 homes, which would need to be demolished to make room for a third runway, would be offered 25% above the market value of their properties.
Other residents would receive improved noise insulation, it said in its report for the Airports Commission.
"We are committed to treating those most affected by a third runway fairly. Since the previous runway plan was rejected in 2010 we have listened to ideas for how we could improve our proposals," said Heathrow chief executive Colin Matthews.
The revised report also suggests a congestion charge for those dropping off passengers at the airport by car.
The airport plans to consult local people on its revised proposals this summer.
In its report, Gatwick argued that its expansion plans would cost £7.8bn and were cheaper and more beneficial than Heathrow's.
It said 10 million more passengers each year would be able to travel with a second runway at Gatwick than with a third runway at Heathrow
The airport also calculated that a new runway at Gatwick could be delivered about five years earlier than a third runway at Heathrow.
It added that its location, south of London, meant that just 14,000 people would be affected by noise, compared with the 240,000 people affected at Heathrow.
"Why would you choose to fly a quarter of a million more planes every year over one of the world's most densely populated cities when instead you can fly them mostly over fields?," said Gatwick's chief executive Stewart Wingate.
Heathrow Hub, the group proposing an extension of Heathrow's existing runways to add capacity, also submitted a revised proposal to the Airports Commission.
It argued its plans would mean a potential end to night quota flights and would create up to £45bn of economic benefits for the UK and 19,000 jobs.
Jock Lowe, one of the promoters behind the Heathrow hub concept, said: "Our proposal is the most efficient, cost effective and politically realistic of the three proposals shortlisted by the Airports Commission."
Related Internet Links
The BBC is not responsible for the content of external sites.