Corruption redefined as tourism in Czech Republic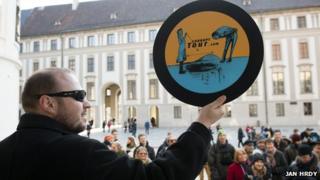 In Prague's maze-like Franciscan Garden, an urban oasis hidden away in the heart of the Czech capital, a curious ceremony is unfolding.
A man and a woman in smart black uniforms, pale blue and orange sashes draped over their shoulders, are preparing to grant their organisation's highest academic honour to a bunch of nervous novices.
Tourists and office workers struggle to suppress their curiosity, squinting to read the ornate letters slowly being etched on large scrolls of paper in beautiful calligraphy.
The words being formed read "Masters in Corruption Administration".
"Corruption is not just money spent in the wrong way. Corruption is trust misused, and the web of power that's built with this very money," says Petr Sourek, founder of what he says is the world's first corruption tour agency.
For a few dozen euros, Petr and his colleagues will take you on a tour of the landmarks of corruption and cronyism that have so blighted the Czech transformation from a socialist planned economy to a capitalist free market.
"I perceive it as a threat to our freedoms, because if these mafia-like structures are strong enough, they are able to intimidate citizens," he tells the BBC.
The tours - of which there are several - give visitors a glimpse of what happened to the huge sums of taxpayers' money that have disappeared into the pockets of crooked civil servants and shady businessmen.
It's a whistle-stop excursion past ostentatious villas, massively over-budget public construction projects and the echoey corridors of local government offices.
And at the end of the tour, members of the group are handed a unique souvenir - a joke "degree" in corruption administration - a nod at the many officials and politicians accused of buying or fast-tracking their academic qualifications, including - the ultimate irony - law degrees.
Petr Sourek sees no problem in profiting from corruption. Quite the opposite.
"It is exactly this contradiction that I set up Corrupt Tour to highlight," he says. "Corruption tourism is a business that feeds on what feeds on business. We recycle corruption."
At one point we pause under the offices of Roman Janousek, a billionaire businessman whose influence in Prague was once deemed so great he was regarded as the city's "shadow mayor", and nicknamed "Voldemort", for allegedly selling city property, rigging public tenders and overseeing huge development projects - accusations he denies.
On 30 April Mr Janousek was sentenced to three years in prison for grievous bodily harm following a minor traffic accident, after which - prosecutors alleged - he deliberately rammed his luxury Porsche Cayenne into the other driver, who had emerged from her car to remonstrate with him. Mr Janousek protests his innocence and is likely to appeal.
So how big is corruption in the Czech Republic? Big enough to bring down governments certainly.
In June last year, police in balaclavas raided the government headquarters, in a sex, spying and bribery scandal that spelled the end for the country's Prime Minister, Petr Necas. The offices of several businessmen - including Mr Janousek - were also raided.
It was a bitterly ironic end for a government that had done more than any other to free the hands of the detectives and prosecutors tasked with cracking down on high-level corruption.
But corruption is notoriously difficult to measure with any accuracy.
The global anti-corruption watchdog Transparency International ranked the Czech Republic 57th out of 177 countries surveyed for its 2013 Corruption Perceptions Index, which measures how corrupt a country's public sector is perceived to be by its citizens.
It was down from its 2012 ranking of 48th place, but was still ahead of neighbouring Slovakia (61st) and did considerably better than Italy (69th), Bulgaria (77th) and Greece (80th).
"It's the same problem as in many other countries which emerged from a communist past," says Adriana Krnacova, who headed the Czech branch of Transparency International from 2001 to 2007 and is now deputy interior minister.
"We're a very young country. We've existed for only 20 years, and it would be very naive to think that after 20 years - actually one generation - everything would change," Ms Krnacova says.
"Most of the talented people from the Czech Republic and Slovakia left in the 1990s. Actually, politics was taken over by people who are not much friends of transparency," she adds.
But there are tales that inspire hope.
In 2010 a blind lawyer named Ondrej Zavodsky was fired from his job as head of the Interior Ministry's legal service. He claims it was in retaliation for repeatedly raising the alarm over a number of suspicious contracts he had been tasked with scrutinising.
Following his dismissal he sent copies of the documents to the police and even the interior minister himself - to no avail. Instead, he and his family began to receive threatening phone calls.
The case began to attract coverage in the media. Public pressure led to an internal audit which revealed serious shortcomings.
Today, Ondrej Zavodsky is deputy finance minister.
"Things have moved forward of course. That's visible even just looking at my own case," Mr Zavodsky tells the BBC, as his guide dog eyes a peacock strutting through the baroque splendour of the Waldstein Garden.
"I was recently appointed deputy minister of finance for state property and the national lottery - i.e. a post that carries with it perhaps the greatest risk of corruption in the state administration, and the minister has given me a completely free rein to ensure transparency of the various flows of money."
It is, certainly, a sign that things are beginning to change.