US retail sales growth in April weaker than forecast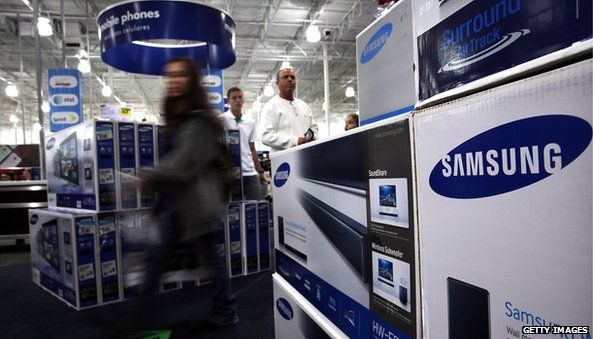 US retail sales grew by just 0.1% in April, compared with growth of 1.5% the month before, latest figures from the Commerce Department show.
Consumers cut back primarily on purchases of electronics and furniture.
The slowdown surprised many analysts, who were looking for continued growth after the harsh winter hit spending.
The weak figure may cause concern, as consumer spending accounts for about two-thirds of total economic activity in the US.
Excluding sales of petrol and cars, retail sales actually fell by 0.1% in April.
Some have attributed the slowdown to the lack of growth in wages, which have barely increased since the 2008-09 recession.
US markets largely shrugged off the surprise slowdown, as strong jobs growth in April has led many investors to expect a boom in economic activity over the summer.
However, the slower retail sales figure could influence the US Federal Reserve, which is in the midst of trimming its monthly bond purchases. Those purchases - now at $45bn a month - were put in place to keep long-term interest rates low and thus stimulate economic growth.
The Fed has said that it sees US economic activity picking up in the latter half of 2014, but has reiterated that it will re-evaluate its decision to remove its extraordinary stimulus efforts should the US economy stall.
That could please investors, who have come to rely on the Fed for "cheap money" as a result of low interest rates.
However, Janet Yellen, the chair of the Fed, recently said in her bi-annual testimony in front of the US Congress that the slow start to the year - with the latest figures revealing that the US economy grew at an annual pace of just 0.1% in the first quarter of 2014 - was due largely to weather-related issues.
"With the harsh winter behind us, many recent indicators suggest that a rebound in spending and production is already under way, putting the overall economy on track for solid growth in the current quarter," she said.
Related Internet Links
The BBC is not responsible for the content of external sites.