Payday lender exits the market, after watchdog pressure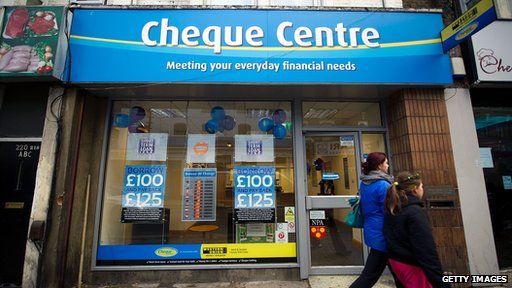 The UK's second-biggest High Street payday lender has agreed to withdraw from the market, following pressure from the regulator.
Cheque Centre had been accused of poor practice in the way it treated customers in debt.
The lender is based in Edinburgh, and has 451 branches across the UK.
It said it would now concentrate on other business like foreign currency, longer-term loans and pawn-broking.
It has also agreed to suspend all telephone calls to customers who owe money, following an agreement with the Financial Conduct Authority (FCA).
Tougher rules on payday loans were introduced by the FCA when it took over as the regulator of the payday industry last month.
"This is an early victory for people that use payday lenders," said Martin Wheatley, the FCA's chief executive.
"We made our tougher expectations clear to Cheque Centre and they have wasted no time in making changes," he said.
Cheque Centre stopped making payday loans on the 1st April, and said it had few outstanding borrowers.
"The FCA made clear their expectations, under the new rules, and we offered to make immediate changes, " said a spokesman for Cheque Centre.
"One of the decisions we made was to accelerate our exit from payday lending."
When it took over as the regulator, the FCA said it expected that up to a quarter of payday lenders might leave the market.